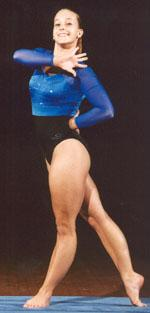 Julie

Joy
height

5-0

class

Senior

High school

Willowbrook
2003 Season: Scored personal season highs in the vault – 9.725, floor exercise – 9.775 and all-around – 38.700 … Tied her career high on the balance beam 9.775 vs. Bowling Green, Florida and Minnesota (1/24/03)… Finished second overall and first among returnees on the uneven bars with a 9.786 average… Tied for 16th on the uneven bars 9.800, at the Southeastern Conference Championships (3/29/03).
2002 Season: Had an excellent sophomore campaign, finishing second on the team in the all-around, scoring a career-high 39.325 against Ball State… Tallied career-highs on the vault – 9.850 (twice), bars – 9.925 and beam – 9.775 (twice)… Led team on bars with a 9.840 average, hitting all 13 routines and scoring a 9.900 or better three times… Claimed three bar titles and three seconds… Career-high vault came in UK's school-record 196.375 performance at Texas Woman's University… Finished third on the team on vault and floor, and fourth on beam… Tallied a season-high 9.850 on floor twice.
2001 Season: Despite missing the fall semester, began season in vault, bar and beam lineups… Scored a career-high 9.875 on bars and a 9.900 on floor vs. Bowling Green/C. Michigan/Pittsburgh (3/9/01), both good for first-place honors… A week later, scored a career-high 9.850 on vault, a 9.700 on beam and a 38.900 in the all-around at Arizona State (3/16/01)… Top scores on bars and floor are ranked fifth all-time at UK… Was second on team on floor (9.756) and in the all-around (38.625).
Pre-College: A graduate of Willowbrook High School… Three-time Level 10 National qualifier… Alternate on the Region 5 All-Star team that competed in El Savador.
Joy's Career Averages
Year
Vault
Bars
Beam
Floor
All-Around
2003
9.683
9.786
9.183
9.710
38.113
2002
9.727
9.840
9.600
9.727
38.913
2001
9.740
9.648
9.333
9.756
38.625
Joy's Collegiate Highs
Vault:
9.850 at Arizona State/Nebraska/Iowa (3/16/01),
vs. N. Hampshire (1/25/02) & at Texas Woman's U. (3/15/02)
Uneven Bars:
9.925 vs. Ball State (2/15/02)
Balance Beam:
9.775 vs. Ball State (2/15/02),
vs. Auburn (2/22/02) & at Florida/Minn./BGSU (1/24/03)
Floor Exercise:
9.900 vs. Bowling Green/C. Michigan/Pittsburgh (3/9/01)
All Around:
39.325 vs. Ball State (2/15/02)
Personal
Full Name: Julie Kaye Joy
Birth Date: February 2, 1982
Parents: Donna and Tom Joy
Siblings: John and Jennifer
Major: Kinesiology
Nickname: J.J.
Did You Know?
Favorite Food: Strawberries
Favorite Movies: Austin Powers (I,II,III), Dazed and Confused
Favorite Musical Artist: Grateful Dead
Favorite Apparatus: Floor
Started gymnastics at age: Three
Pet Peeves: People who do not stand up for themselves
In my spare time I like to: Hang out with my friends
If I was on Fear Factor, this would be my biggest fear: Eating anything alive
The teammate or staff member I would use as a lifeline on "Millionaire": Mindy Smith
If I could have dinner with three famous people, they would be: The Rock, Stone Cold Steve Austin, The Undertaker
The one person in history I would most like to meet: Jerry Garcia
If I was not competing in gymnastics, the other sport I would play: Football
Best present I ever received: Car
My biggest role models are: My parents
The moment in my life when I was most proud: At the SEC Championships last year
The one thing I like most about gymnastics: My teammates
Not many people know this, but I: Would like to be a professional wrestler in the WWE
Why UK? I liked all the girls on the team and got along with them all
Read more