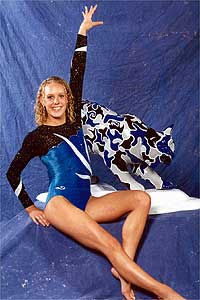 Jessie

Lemp
height

5-6

class

Redshirt

High school

North Shore
Coach Little on Jessie
"Jessie is the type of student-athlete any coach would love to have. She has such a positive attitude and great work ethic. She is one of our top performers on the bars and vault, and is very consistent on beam. I look for her to have a great senior season."
2002 Season: Co-captain competed in every meet on the bars and beam for UK? Finished second on the team on bars with a career-high season average of 9.825, hitting all 13 routines and scoring a 9.800 or better 10 times? Scored a career-high 9.925 on bars against Auburn (2/22/02) and nearly matched it with a 9.900 in UK?s school-record 196.375 performance at Texas Woman?s University (3/15/02)? Claimed two bars titles and three seconds? Also finished second on the team on beam, scoring a season-high 9.800 twice? Member of the Southeastern Conference Academic Honor Roll? Inducted into prestigious UK Society of Character? Named a PNC Bank Student-Athlete of the Week? Named to the Verizon Academic All-District IV first team… Given the UK Coaches Award for being the one gymnast who exemplified the total package ? athletics, academics and service? Also given the ?3D? award for her dedication, determination and desire.
2001 Season: Competed mainly on bars and beam, leading the team with a 9.767 bar average while second on the team with a 9.715 average on beam… Finished tied for third on bars with a 9.825 to help UK to a near upset at Alabama (2/24/01)… Claimed second-place honors on bars on two occasions… Season-high 9.825 on beam came in fifth-place finish at Florida (3/2/01)… Took third place on beam vs. Georgia/George Washington (2/2/01)… Named an NACGC/W Academic All-American and to the SEC Academic Honor Roll.
2000 Season: Finished second on bars with a 9.758 average, notching a career-high 9.875 vs. Auburn (1/21/00) and vs. Florida (3/3/00)… Also made several appearances on vault, posting a season-high 9.725 at the SEC Championships (3/18/00)… Named an NACGC/W Academic All-American and to the SEC Academic Honor Roll.
1999 Season: Competed in the first 11 meets of the season before suffering a torn ACL during warm-ups at the NCAA Southeast Regional… Made her first all-around performance vs. Florida (1/15/99)… Posted a career-high all-around score of 38.950 at the SEC Championships.
Pre-College: Graduated magna cum laude from North Shore High School… 1997 Level 10 Junior Olympic All-Around Champion… 1997 Elite Copa All-Around Champion… Four-time national qualifier… 1992 Level 8 Regional Championship All-Around Champion.
Lemp's Career Averages
Year
Vault
Bars
Beam
Floor
All-Around
2002
9.600
9.825
9.646
—
—
2001
9.625
9.767
9.715
—
—
2000
9.656
9.758
—
—
—
1999
9.711
9.575
9.439
9.597
38.278
Lemp's Collegiate Highs
Vault:
9.875 vs. Georgia (3/5/99)
Uneven Bars:
9.925 vs. Auburn (2/22/02)
Balance Beam:
9.850 at Auburn (3/12/99)
Floor Exercise:
9.900 vs. Georgia (3/5/99)
All Around:
38.950 at SEC Championships (3/27/99)
Personal
Full name: Jessie Marie Lemp
Birth Date: April 27, 1980
Parents: Pam and Jack Lemp
Siblings: Michelle and Jackie
Major: Biology
Nickname: Jess
Did You Know?
Favorite Foods: Crablegs, Sushi
Favorite Movies: Pretty Woman, League of Their Own
Favorite Apparatus: Bars
Not many know this about me: I like to dance when I think no one is looking
Pet Peeves: Impatience
In my spare time I like to: Make sushi
If I was on Fear Factor, this would be my biggest fear: Being chased by a dog
The teammate or staff member I would use as a lifeline on"Millionaire": Mo or Karla Adelt
The one person in history I would most like to meet: Abraham Lincoln
If I was not competing in gymnastics, the other sport I would play: Golf
Best present I ever received: A Cabbage Patch Kid
The moment in my life when I was most proud: When I earned a Division I gymnastics scholarship.
The one thing I like most about gymnastics: The thrill ofcompetition
Why UK? Great teammates, coaches and athletics
Read more