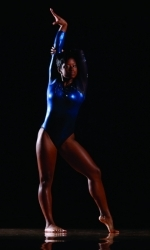 Jasmine

Minion
height

5-1

class

Senior

High school

Bolton H.S.
2010 (Junior): Performed on three events for the Wildcats, recording a career-high on floor exercise (9.900) … Claimed medalist honors once on the vault and twice on the floor exercise … Took first place on the vault against Auburn with a 9.875 and won the floor exercise (9.825) competition against both Texas Woman's University and Ohio State … Posted UK's top score on the vault (9.850) at the SEC Championships and on the floor exercise (9.900) at the NCAA Central Regional Championships.
2009 (Sophomore): Competed in every meet on both the vault and floor exercise … Averaged a 9.845 on vault after never scoring below a 9.800 all season, and not dipping below a 9.825 11 times … Earned impressive scores of 9.875 and 9.850 at the SEC Championship and NCAA Central Region Championship meets, respectively … Took the vault title at Iowa with a 9.900 and floor titles at Iowa with a 9.900 and Alaska with a 9.875 … Made appearances in the beam line-up with a career-best 9.750 earned at Auburn … Ended the year ranking No. 32 on vault.
At Utah State: Tied for second at the NCAA North Central Regional after leading the competition for five rotations with a 9.9 … Minion earned the America First Credit Union Utah State Student-Athlete of the Week for her performance at regionals … Her score of 9.9 was not only a career best, but also the third-highest score in Utah State history and makes her one of eight different Aggie gymnasts to post the high score … Minion claiming four of the six high marks and holds three of the top-five school records on vault and the fourth-highest score on floor with a 9.9 … In March she was named to the second-team All-WAC honorees. She was also named WAC Gymnastics Specialist of the Week
Pre-College: Competed as a Level 10 gymnast at River City Gymnastics … Placed eighth in the all-around at the Eastern Regionals, with a first place finish on the floor exercise … Competed in the all-around at the 2006 Junior Olympic Nationals with an eighth place finish on vault and landed in the 26th spot all-around … Was state champion at Level 7-9 … Graduated from Bolton High School with a 3.1 grade point average.
Personal Information: Full name is Jasmine Elaine Minion … Parents are Chiquita and Terence Minion … Has one brother, Terence (12) … Majoring in Exercise Science … Born on June 19, 1989 in Memphis, Tenn.
Collegiate Bests:
Vault: 9.9 twice, last at Iowa (3/6/09)
Beam: 9.750 twice, last at Auburn (2/20/09)
Floor: 9.9 at NCAA Central Regional (4/10/10)
Season Averages
| | | | | | |
| --- | --- | --- | --- | --- | --- |
| Season | VT | UB | BB | FX | A-A |
| 2008 | 9.759 | – | 9.333 | 9.729 | – |
| 2009 | 9.845 | – | 9.320 | 9.750 | – |
| 2010 | 9.781 | – | 9.321 | 9.800 | – |
Read more