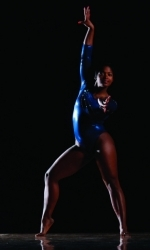 Hillary

Ferguson
height

5-2

class

Senior

High school

Madison Central H.S.
Three-time SEC Academic Honor Roll (2007, 2008, 2009)
Two-time Arthur Ashe Jr. Sports Scholar (2008 and 2009)
SEC Athlete of the Week (3/10/08)
2009 (Junior): Was UK's most consistent all-around performer, competing in all four events in every meet … Added five event titles (1-vault, 1-beam, 2-floor, 1-all-around) to her previous 12 … Earned a career-high 9.825 on the balance beam against LSU in Kentucky's home conference opener … Nabbed season-best marks of 9.875 on vault, 9.850 on bars, 9.900 on floor and 39.275 all-around … Tallied a 9.900 on the floor exercise twice, first during Excite Night against Utah State and then again vs. Georgia/Centenary … Led the Wildcats on individual events eight times.
2008 (Sophomore): Named SEC Athlete of the Week on March 10th for her performances in the tri-meet against Arizona and Western Michigan and at Ohio State … Holds the top spot for the team on bars and floor … Won 10 season titles … Earned career highs on four events: vault (9.9), bars (9.875), beam (9.8), all-around (39.325) … Hit two floor scores of 9.925, tying her career high score … Performed the all-around in each of the Wildcats' 15 meets … Led Kentucky on floor, vault, and the all-around at the NCAA Central Regional meet … Notched a Wildcat high score in at least one event in 14 of 15 meets.
2007 (Freshman): Established herself as one of the team's leading all-around performers … Led the Wildcats with a 9.798 average on floor exercise … Captured two individual event titles on floor, including a season-best mark of 9.925 in a quad meet at Texas Woman's University on March 10 … Eclipsed the 9.8 mark on floor in 10 of the squad's 13 meets during the season … Led or tied for the team lead on floor in six meets … Also the team's top returning competitor on bars, averaging a 9.602 on that apparatus.
Pre-College: Performed under coaches Mo Mitchell and Robin Bodem at All-American Gymnastics … Competed on first-place team at the 2004 Junior Olympic Nationals as a sophomore … Finished third on vault for that national champion team … Took third place on floor the next year.
Personal: Full name is Hillary Rashida Ferguson … Daughter of Haywood and Dorothy Ferguson … Has two older brothers, Tivon (32) and James (23) … Brother James played football for UK for one year and Kentucky State for one year … Born on Sept. 6, 1988 in Lexington, Ky.
Collegiate Bests
Vault: 9.9 twice, last at Centenary (3/16/08)
Uneven Bars: 9.875 at Ohio State (3/9/08)
Balance Beam: 9.825 twice, lastat Florida (1/30/09)
Floor Exercise: 9.925 twice, last vs. Arizona/WMU (3/7/08)
All-Around: 39.325 vs. Arizona/WMU (3/7/08)
Season Averages
| | | | | | |
| --- | --- | --- | --- | --- | --- |
| Season | VT | UB | BB | FX | A-A |
| 2007 | 9.490 | 9.602 | 9.500 | 9.798 | 38.275 |
| 2008 | 9.783 | 9.652 | 9.605 | 9.788 | 38.828 |
| 2009 | 9.740 | 9.721 | 9.625 | 9.760 | 38.845 |
Read more