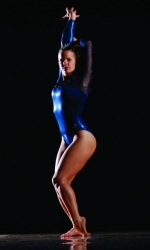 Emilie

Rymer
height

5-4

class

Senior

High school

Medina H.S.
2009 (Junior): Was forced to the sidelines for the first half of the season due to an ankle injury … Returned to action in late February on the balance beam and uneven bars … Earned a season-best 9.750 on the uneven bars at West Virginia and nabbed a season-high of 9.850 on the balance beam against Alaska-Anchorage.
2008 (Sophomore): Kentucky's lead on uneven bars and the all-around with averages of 9.665 and 38.832 … Earned seven season titles, four of which were in the all-around, for a career total of 10 … Led UK in the all-around in nine of 15 meets … Notched a score of 39 or better in the all-around in eight meets … Held the top spot on bars with a 9.875 earned at Georgia on February 23 … Tied her collegiate best on the balance beam of 9.875 at Arkansas … Lead UK in two or more events in eight meets.
2007 (Freshman): The team's top all-around performer as a freshman, posting an average of 38.827 a year ago … Led UK in four consecutive meets to close out the regular season, including a personal-best mark of 39.400 in a quad meet at Texas Woman's University on March 10 … The squad's returning leader on vault after posting a 9.800 average during her inaugural campaign … Posted scores of 9.9 or better in two meets, claiming individual meet titles on both of those occasions … A strong beam performer, who averaged 9.708 on the apparatus … Recorded a season-best 9.875 on the event at TWU.
Pre-College: Competed for the Medina Gymnastics Academy and Medina High School… In 2004, she finished fifth at the Level 10 regional championships to earn an invitation to nationals… The next year, she took home fifth at the Level 10 nationals in the all-around, edging new teammate Emily Green…Finished in the top 10 on the vault, bars and floor exercise at the event…She won the Ohio high school all-around state championship in each of her three years at Medina High, becoming only the second gymnast in Ohio history to turn the trick three straight years…In the three years, she won six apparatus state titles and finished in the top three a total of 14 times…She set state meet records on vault and bars as well as in the all-around …Was named the Cleveland Plain-Dealer Gymnast of the Year as a sophomore and to the 2006 All-Ohio Gymnastics team.
Personal: Full name is Emilie Katherine Rymer … Parents are Mark and Kathy Rymer … Has a younger brother, Dan (17), and a younger sister, Nicole (19) … Mother ran track at UK … Born on July 12, 1988 at Parma, Ohio.
Collegiate Bests
Vault: 9.925 at OSU/WVU/GWU (3/4/07)
Uneven Bars: 9.875 at Arkansas (2/15/08)
Balance Beam: 9.875 at TWU/BGSU/SEMO (3/10/07)
Floor Exercise: 9.875 at Arizona/PSU/TWU (3/16/07)
All-Around: 39.400 at TWU/BGSU/SEMO (3/10/07)
Season Averages
| | | | | | |
| --- | --- | --- | --- | --- | --- |
| Season | VT | UB | BB | FX | A-A |
| 2007 | 9.800 | 9.642 | 9.708 | 9.685 | 38.827 |
| 2008 | 9.762 | 9.665 | 9.652 | 9.753 | 38.832 |
| 2009 | – | 9.435 | 9.550 | – | – |
Read more