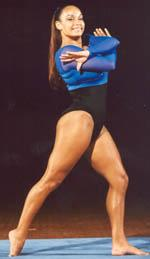 Aronda

Primault
height

5-3

class

Senior

High school

McKinley
2002 Second-Team All-America – Vault
2002 First-Team All-Southeastern Conference – All-Around
2003 Season: Led the GymKats on vault 9.842, beam 9.704 and all around 38.888… Had a solid performance at the SEC Championships finishing 10th on vault (9.850) and 14th all-around (38.900)… Scored a career high 9.950 vs. Brigham Young (1/31/03)… Finished first in the vault twice, had one first place floor performance and three first place all around finishes… Scored a season-best 39.300 all-around performance vs. Georgia (2/14/03)… Scored a season-high 9.850 on the floor exercise three times.
2002 Season: Scored a 9.875 on vault to finish tied for 12th at the NCAA Championships earning second-team All-America honors… Finished seventh in the all-around with a 39.225 at the NCAA Southeast Regional Championships to qualify for the national championships… Tied for fifth in the all-around with a 39.200 at the SEC Championships to make first-team All-SEC… Led team in the all-around and on the vault, beam and floor… Scored career-highs on each apparatus: vault – 9.900, bars – 9.875, beam – 9.925, floor – 9.925 and all-around – 39.350… Won four all-around titles on the season… Scored a 39.200 or better in the all-around eight times, including a 39.325 at LSU… Was voted team MVP by teammates.
Pre-College: Was an AAU All-American for six consecutive years… Placed fourth in the all-around at the 1996 Junior Olympic Nationals… Graduated from McKinley Senior High School.
Primault's Career Averages
Year
Vault
Bars
Beam
Floor
All-Around
2003
9.842
9.708
9.704
9.633
38.888
2002
9.792
9.777
9.729
9.796
39.085
2001
9.690
9.719
9.595
9.795
38.959
Primault's Collegiate Highs
Vault:
9.950 vs. Brigham Young (2/28/03)
Uneven Bars:
9.875 at Texas Woman's University (3/15/02)
Balance Beam:
9.925 vs. Ball State (2/15/02)
Floor Exercise:
9.925 vs. Ohio State (1/5/02)
All Around:
39.350 vs. Ball State (2/15/02)
Personal
Full Name: Aronda Jean Primault
Birth Date: January 18, 1982
Parents: Barbara and Ronald Primault
Siblings: Amanda and Alonzo
Major: Kinesiology
Nickname: Roo
Did You Know?
Favorite Food: Chicken
Favorite Movie: The Best Man
Favorite Musical Artist: DMX
Favorite Apparatus: Floor
Started gymnastics at age: Four
In my spare time I like to: Sleep
If I was on Fear Factor, this would be my biggest fear: Eating anything raw or alive
If I could have dinner with three famous people, they would be: Jennifer Lopez, Ludacris, Morris Chestnut
The people in history I would most like to meet: Morris Chestnut and Shemar Moore
If I was not competing in gymnastics, the other sport I would play: Track
The thing I like most about gymnastics: The rush I get from competition
Why UK? The team and the coaches
Read more