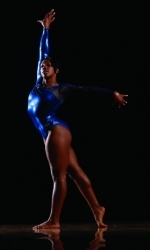 Andrea

Mitchell
height

5-3

class

Senior

High school

Karns H.S.
2008 Freshman All-SEC Team
2010 (Junior): Competed in all events at all 13 meets during the season … Earned three medalist honors in the all-around competition against Texas Woman's (38.800), Ohio State (39.125) and the Illinois State and George Washington tri-meet (38.925) … Set a career high in floor exercise (9.850) during the season … Received the Most Outstanding Performer award in the all-around at the end of year team banquet.
2009 (Sophomore): Competed in seven meets this season, primarily on the uneven bars and floor exercise … Had three all-around performances … Earned a career-high 9.800 on the floor twice, first against LSU and then again against Arkansas … Was forced to sit out the remainder of the season due to a back injury.
2008 (Freshman): First Wildcat named to the Freshman All-SEC team … Competed in all 15 meets, nine of which were in the all-around … Earned two titles in her rookie year, one on bars at Centenary on March 16 and the other in the all-around at Ohio State on March 9 … Scored career highs of 9.8 or better on all events and a 39.15 in the all-around … Earned a season high 9.85 on the vault at the NCAA Central Regional … Holds a top spot on the team on the uneven bars with a 9.875.
Pre-College: Competed for Premier Athletics under coaches Boo Dean and Sasha Ellis … Finished undefeated in her junior season of 2007 … Was the state and regional championship and finished third at nationals … Finished second in the state as a sophomore … Was fourth at regionals and seventh at nationals as a freshman in 2005.
Personal: Full name is Andrea Jamelle Mitchell … Born Jan. 6, 1990 in Bolivar, Mo. … Parents are James and Valerie Mitchell … Father James works with the Duke University football team … Has two siblings, Ashley, 19, a cheerleader at Tennessee Tech and Asyia, 16 … Plans to major in sports management.
Collegiate Bests
Vault: 9.85 at NCAA Central Regional (4/12/08)
Uneven Bars: 9.875 at Centenary (3/16/08)
Balance Beam: 9.825 at Ohio State (3/9/08)
Floor Exercise: 9.850 twice, last vs. Alabama (2/26/10)
All-Around: 39.150 at Ohio State (3/9/08)
Season Averages
| | | | | | |
| --- | --- | --- | --- | --- | --- |
| Season | VT | UB | BB | FX | A-A |
| 2008 | 9.707 | 9.641 | 9.589 | 9.500 | 38.392 |
| 2009 | 9.531 | 9.614 | 9.292 | 9.650 | 38.425 |
| 2010 | 9.760 | 9.727 | 9.631 | 9.731 | 38.848 |
Read more