UK Athletics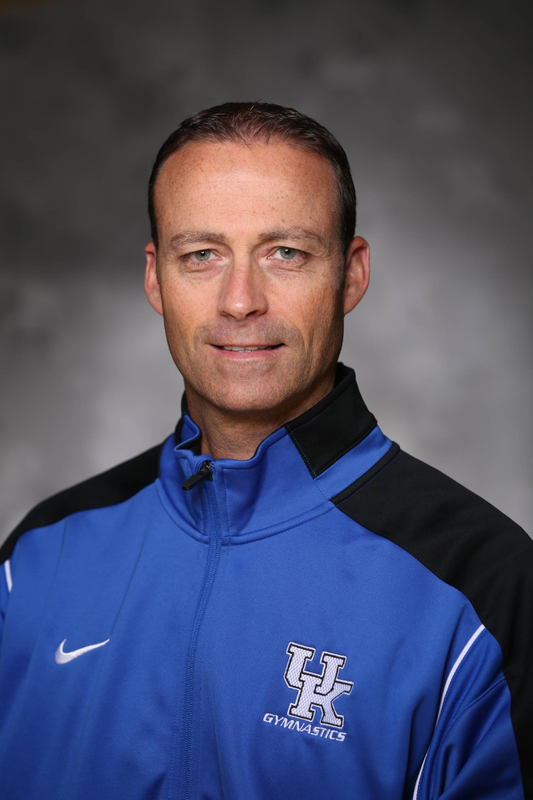 Tim Garrison enters his 12th season as gymnastics head coach at the University of Kentucky in 2023, following a decade of unprecedented success at the helm.
Prior to Garrison's tenure, the program's highest single-meet score stood at 196.375 for a full decade. That total has been matched or surpassed 46 times since, including in the NCAA Regional final of two of the past four years with performances of 197.600.
In 2022, Kentucky finished No. 9 in the Road to Nationals All-Around Team National Standings. Breaking program history with its highest score of 197.750 in the second round of the NCAA Auburn Regional. Raena Worley and Hailey Davis represented the Wildcats at the NCAA National Championships with Worley earning All-American First and Second Team Honors.
In 2021, Kentucky finished No. 11 in the Road to Nationals All-Around Team National Standings after ranking inside the top 15 all season. In addition to tying the best single-meet team score in program history, the Wildcats recorded four total 197-point performances. Kentucky set a new school record for best beam rotation (49.525) and tied its best performance on bars (49.475).
In the postseason, Garrison's Wildcats recorded the program's only first-place finish in an NCAA Regional meet and matched a program-best fourth-place finish at the Southeastern Conference Championships. Raena Worley was named a second-team Women's Collegiate Gymnastics Association Regular Season All-American and earned All-SEC status alongside Josie Angeny, Anna Haigis, Arianna Patterson and Bailey Bunn, who was also part of the SEC All-Freshman Team.
Worley and Bunn continued a program-best streak of seven straight NCAA Championships with at least one individual competitor.
Garrison, the 2018 National Association of Collegiate Gymnastics Coaches/Women National Coach of the Year, surpassed the 100-win mark as UK head coach on Jan. 17, 2020.
Kentucky began the 2020 season with a ninth consecutive appearance in the WCGA's annual preseason poll at No. 12. The Wildcats were ranked as high No. 10 in the Road to Nationals All-Around Team National Standings, never falling outside the top 13 throughout a season cut short due to the COVID-19 pandemic.
Garrison guided 2020 AAI Award Finalist Mollie Korth to a WCGA Regular Season All-America first-team appearance on vault and second-team appearances on bars and all-around in her senior campaign, making her an 11-time All-American in total. Korth became the third athlete in program history designated All-SEC in four straight seasons, while Angeny earned her first All-SEC selection and Worley became the program's seventh all-time SEC All-Freshman honoree.
In 2019, Garrison was named WCGA Region 1 Coach of the Year for the second consecutive season after guiding the Wildcats to a school-record six 197-point performances and a No. 9 ranking with a 394.685 Final National Qualifying Score. Kentucky advanced to a top-16 NCAA Regional Final in the first year of the new NCAA Championship format and participated in the second session of the SEC Championship for the second year in a row. The Cats broke the school record single-meet team score twice with a 197.525 finish versus Central Michigan on March 3 and a 197.600 in the NCAA Athens Regional Final on April 6.
Under Garrison's guidance, seniors Alex Hyland and Sidney Dukes, as well as freshman Cally Nixon, continued Kentucky's program-best streak of six straight seasons with at least one NCAA Championship participant. Hyland was named a second-team WCGA All-American on beam and all-around. a second-team WCGA Regular Season All-American as an all-around competitor, All-SEC on beam, and SEC Co-Scholar Athlete of the Year. Korth was named a second-team WCGA Regular Season All-American on vault and all-around, as well as All-SEC on vault. Angeny was named SEC All-Freshman on beam.
2018 was a breakthrough year for Garrison and his staff, leading Kentucky to both an NCAA Championship appearance and the second session of the SEC Championship for the first time in program history. Garrison and his staff were named the NACGC/W National and Assistant Coaches of the Year.
In 2017, Garrison led Kentucky to an NCAA Regional and secured a No. 2 seed for the first time in program history after a historic Regional Qualifying Score of 196.845 to finish No. 12 in the nation. Garrison coached Korth to SEC Freshman of the Year and NACGC/W All-American honors. Along with Hyland, Korth earned Regular Season All-America honors, while Hyland earned an individual SEC beam title. Kentucky's impressive regular season saw wins over multiple SEC opponents, including over Alabama for the first time in school history by way of a 197.475 then-record score.
In 2016, Garrison took Kentucky to the NCAA Tuscaloosa Regional, where the Wildcats finished fourth as a team with a score of 195.725. Garrison saw two freshmen move onto the NCAA Championships in Hyland and Dukes. Hyland was the all-around champion of the regional after posting a meet-best 39.175 for the title, while Dukes scored a 39.125, earning the final all-around spot. At the NCAA Championship, Garrison coached his first All-America honoree. Dukes executed a nearly flawless beam routine en route to a 9.8875, the fourth-highest mark in the session and the third-highest on the event in program history at the time. The Wildcats posted what were two top-five scores in school history, including a 196.65 at Memorial Coliseum versus Florida.
In 2015, Garrison led the Wildcats a 5-3 home record while posting some of the best UK scores to that point. On March 6, Garrison led the team to a 196.575 team score, then good for second all-time at Kentucky. The Wildcats flourished during in both bars and beam, with Garrison guiding the team to the second- and fifth-best results in school history, respectively. Sydney Waltz and Cori Rechenmacher became Kentucky's first two SEC All-Freshmen selections. Additionally, Waltz became the first Wildcat to compete in the NCAA Championships as an all-arounder since Aronda Primault in 2002. Waltz finished 15th overall, while taking 11th place on floor. Garrison also added two All-SEC selections in Waltz and sophomore Taylor Puryear.
In 2014, Garrison led Kentucky to a 6-1 home record, its best mark at Memorial Coliseum since 1991. The Wildcats set a school-record NCAA Regional score for the second consecutive season and provided an individual appearance at the NCAA Championship. In an upset win over No. 11 Auburn, UK scored a 196.275, then the fifth-best team score in program history. The Cats totaled two scores that landed in the top 10 in school history and four in the top 20 at the time. Along with a then-record NCAA Regional score of 195.925, senior Audrey Harrison tied for an individual win on balance beam. The victory qualified Harrison for the NCAA Championship, marking UK's first appearance since 2010.
Kentucky had a record-setting 2013 campaign that saw numerous school records fall. UK earned a ninth-consecutive NCAA Regional bid with a school-record RQS of 196.06 after breaking the team best score twice. A 196.775 in the regular season finale at Penn State bested the previous high score set earlier in the season at Ball State. The Wildcats notched three wins against SEC opponents, then the most in program history, and earned a school-best 3-3-1 league mark. All three wins were against teams ranked in the top 15, with two over top-nine foes. In postseason play, UK tallied the program's highest-ever NCAA Regional team score of 195.575 and finished fourth at the regional.
Kentucky wrapped up the historic 2013 season by claiming Team of the Year and two individual awards at UK Athletics' annual CATSPY Awards. Garrison was named Coach of the Year alongside baseball coach Gary Henderson and rifle coach Harry Mullins, while sophomore Shannon Mitchell picked up the Scratch Award, given to the top non-scholarship student-athlete.
The Wildcats finished 2012 with three consecutive scores of 195.875 or higher, then the program's best three-meet stretch. UK also sealed the first winning regular season since 2008 in Garrison's first campaign. Garrison guided Kentucky to a final No. 25 ranking with a NQS of 390.240 in 2012. The ranking made Garrison the first head coach in school history to take his team to a top-25 final ranking in his first season. The Cats earned back-to-back victories over top-25 teams when UK took down SEC foe Auburn at home and nationally ranked Illinois on the road. Kentucky also posted just the 10th score of 196 or higher in school history with a 196.025 against George Washington and Ball State during Garrison's inaugural season.
Garrison arrived at Kentucky after helping the University of Nebraska-Lincoln reach new heights with two NCAA Super Six appearances and two Big 12 Conference championships. Garrison served as the Huskers' vault, floor and strength and conditioning coach, while also helping in all facets of recruiting.
In his five years at Nebraska, Garrison was responsible for producing 10 All-Americans, while his vault and floor teams consistently ranked as one of the top 10 teams in the nation. In 2011, Garrison helped lead the Huskers back to the NCAA Super Six Finals, where they matched their best finish in school history, finishing fourth. Two of Garrison's vault performers ended the individual finals in the top five, while two other gymnasts were in the top 12 on floor.
In his first year on the job at NU in 2007, Garrison's vault team finished sixth in the nation, while the floor squad was in the top five of the final rankings. In 2009, Nebraska was ranked sixth nationally on floor, and in 2010, the Huskers were fifth on vault. Garrison's vault and floor teams finished third and seventh, respectively in 2011. Nebraska made the NCAA postseason in each of Garrison's five years, advancing to nationals three times.
Prior to Nebraska, Garrison developed a reputation as one of the most successful club coaches in the country, serving as a head coach for SCEGA Gymnastics in Temecula, California, for 10 years. SCEGA Gymnastics is one of the largest and most thriving gymnastics teams in the nation. While with SCEGA, Garrison produced 27 national champions, 10 Junior Olympic National Team members and four Elite National Team members. For his efforts, Garrison was named Coach of the Year for Southern California by USA Gymnastics five times, including four consecutive from 2001 to 2004.
In 2001, Garrison coached Rachel Tidd to the World Championships in Ghent, Belgium, where she captured a team bronze medal and finished eighth on beam. A year prior, Garrison coached Tidd to a 10th-place showing in the 2000 U.S. Olympic Trials.
Garrison spent three years at SCATS Gymnastics in Huntington Beach, California, where he was responsible for conditioning and meet preparation for a group of optional and compulsory gymnasts. During his time there, Garrison produced a national qualifier every year at both the Junior Olympic National Championships and the Elite Classic competitions. Garrison also coached at Karolyi's Gymnastics in Houston, Texas, alongside famed former U.S. Olympic Team coach Bela Karolyi.
Garrison served as a director for the Nebraska School of Gymnastics during his time in Lincoln, where he successfully increased the enrollment in the program from 40 participants to over 170 members. Garrison also was named Nebraska's USAG Coach of the Year in 2009.
Garrison is a native of Conroe, Texas, and graduated from California State University, Fullerton with a Bachelor of Science in Physical Education in 1995. Tim is married to UK gymnastics associate head coach Rachel Garrison and the father of three daughters and two sons.
Read more