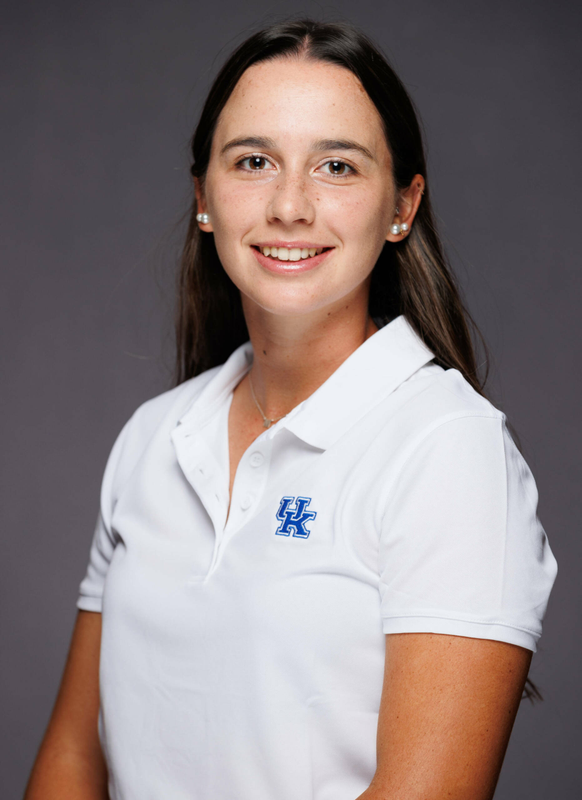 Marta

López Echevarría
class

Junior

Hometown

Roquetas de Mar, Spain

Major

Pre-Management

High school

IES Ortega y Gasset
Chip Shots
Favorite course: Royal Park I Roveri (Turin, Italy)
Dream foursome (including herself): Rory McIlroy, Tiger Woods, Jon Rahm
First time she broke par: 14 years old
Favorite club: Driver
Favorite golf movie: The Legend of Bagger Vance
Favorite golfer: Rory McIlroy
Favorite food: Pasta
Favorite TV show: Prison Break
Favorite book: The Hunger Games
Favorite class: History
Nickname(s): Marts and Martita
Superstition(s): Can't play with a No. 4 golf ball
2023-24 (Junior): Played in her first tournament of the season at the Ruth's Chris Tar Heel Invitational, earning an 11-over for T49, contributing all three of her rounds to the team total and a fifth-place finish for the Wildcats.
2022-23 (Sophomore): Concluded the season with a 76.5 scoring average (14 rounds, 1,071 strokes) in 2022-23 … Played as an individual at the Colonel Classic, recording a career-best, 3-over-par 219 for a career-best T5 finish, while earning a career-best 72 in the first round of action … Competed as an alternate in the second and third rounds at the Clemson Invitational, putting together an 80 and an 82 to aid the UK lineup at the regular-season finale … Contributed two of her three rounds to the team total at the Florida State Match Up, getting better as the tournament went along, recording rounds of 82, 79 and 78 for a 23-over-par 239 and a share of 50th place … Competed in her first tournament of the season as an individual at the Mason Rudolph Championship, firing off a 73, 77 and 78 for a 12-over-par 228 and a tie for 59th place.
2021-22 (Freshman): Played as an individual at the Colonel Classic in April, recording a UK-low 73 in the final round en route to a UK-low, 9-over-par 225 for a share of 11th place … Tied for 22nd at the Lady Bulldog Individual Championship in Athens, Georgia, with a score of 12-over-par 156 … In her first collegiate match-play event, defeated Louisville's Molly Lyne 5 and 3 in the Battle of the Bluegrass at Club Pelican Bay in Naples, Florida … Two appearances in the fall … Playing as an individual only, placed 68th with a score of 24-over par at Old Waverly Golf Club in West Point, Mississippi … Made her college debut at the Ruth's Chris Tar Heel Invitational, where she posted a 238 and tied for 93rd at the UNC Finley Golf Course in Chapel Hill, North Carolina.
Summer 2021: Played in the European Ladies' Amateur Championship with a four-round score of 8-over par at Royal Park I Roveri in Turin, Italy.
Before UK: Member of Spain's girls' national team … Ranked No. 114 in the European Golf Rankings upon arrival at Kentucky … Posted 22 top-10 finishes in World Amateur Golf Ranking entering freshman season at UK … Won the Campeonato de Espania Sub-16 Femenino in May 2019 with a three-round score of 3-under par… Runner-up in the Andalucia Cup in January 2020 … Key member of the Spanish national team at the European Girls' Team Championship in September 2020, which won the B Flight and placed ninth overall … Also competed for Team Andalucia, which placed second in the 2019 Spanish Amateur Championship and fifth in the 2019 European Young Masters.
Personal: Born March 25 … Daughter of Charo Echevarría Orihuela and Enrique López Monzó … Has an older brother, Enrique López Echevarría … Was born in Valencia, Spain and calls Roquetas de Mar, Spain her home … Attended IES Ortega y Gasset for high school … Played basketball, swam and danced in high school … Was a member of the Mediterráneo swimming club and Dance Academy … Lists her father as the person who has influenced her life most … Outside of golf, enjoys spending time with her friends and swimming … Nicknames include Marts and Martita … Chose UK over Mississippi State, Virginia Tech, Texas State, Delaware and UNLV … Her most memorable moment as a golfer is when she made the putt to win the Campeonato de Espania Sub-16 Femenino with all her family and friends watching … Plans to major in business management.
Why She Chose UK: "I chose UK because they have a very strong program athletically and academically and because the coaches made me feel at home. That was very important for me and my family."
Read more