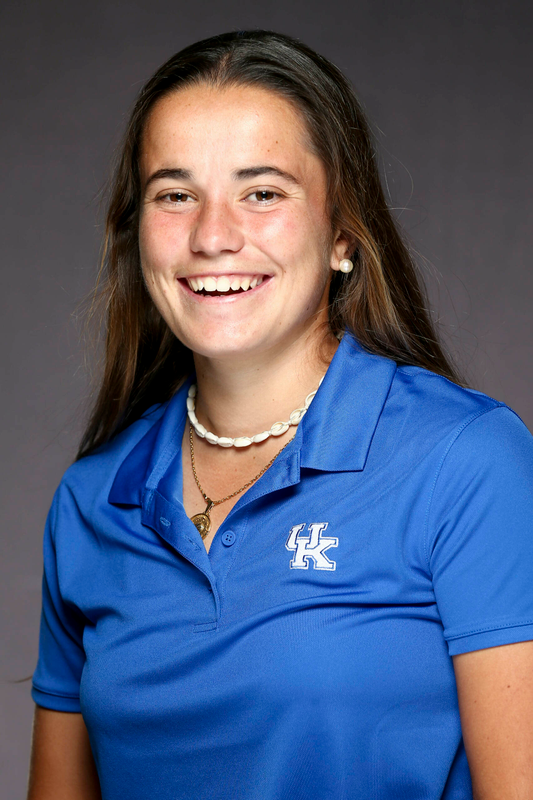 María

Villanueva Aperribay
class

Senior

Hometown

San Sebastián, Spain

Previous School

Augusta

Major

Pre-Finance and Economics

High school

Leonés School
Chip Shots
Favorite course: Augusta National Golf Club (Augusta, Ga.)
Dream foursome (including herself): Jon Rahm, Sergio García, Ian Poulter
First time she broke par: 13 years old
Favorite club: Driver
Favorite golf movie: Seve
Favorite golfer: Sergio García
Favorite food: Spanish omelette
Favorite TV show: Gossip Girl
Favorite book: La Princesa del Hielo
Favorite class: Economics
Nickname(s): Marivi
Superstition(s): If I putt well, I use the same marker the next day
2022-23 (Senior): Turned in a 23-over-par 236 at the Darius Rucker Intercollegiate for T83 … Recorded a 76, 83 and 75 to go +21 for a share of 74th place in the elite field at the Therese Hession Regional Challenge … Fired off a career-best 68 in the second round at the UCF Challenge, helping her to a 1-over-par 217, the third-best tournament total in her career, to finish T45 … Helped Kentucky to back-to-back tournament titles to close out the fall season at the Illini Women's Invitational and Ruth's Chris Tar Heel Invitational, while also helping the Wildcats to a school-record 830 (-34) at the Illini Women's Invitational … For the fall finale at the Ruth's Chris Tar Heel Invitational, she combined rounds of 73, 71 and 76 for a 4-over-par 220 to find 16th place … In her third tournament of the season, she completed rounds of 75, a career-best 69 and 71 to produce a season-best, 1-under-par 215 to tie for 35th place at the Illini Women's Invitational … In her second tournament of the season, rallied a 9-over-par 225 tournament total to tie for 47th place … Teed off the season at the Cougar Classic (par 71), where she put together rounds of 74, 76 and 72 for a 9-over-par 222 and a share of 64th place.
2021-22 (Junior): Rallied a 10-over-par 223 for a share of 39th place at the NCAA Stanford Regional … Kentucky counted all three of her rounds at the SEC Championship, as she put together scores of 75, 71 and 79 to turn in a 9-over-par 225 to tie for 36th place at the league tournament … She rallied a T30 finish at the Clemson Invitational on rounds of 75, 77 and 76 to post a 12-over-par 228 … At the Clover Cup in March, earned a 14-over-par 230 for a share of 59th place … She rallied a 9-over-par 222 at the Darius Rucker Intercollegiate to tied for 35th place … Tied for 57th at the UCF Challenge with a 3-over-par 219 after recording a 1-under-par 71 in the third round … Fell in a 1-up match vs. Louisville's Carmen Griffiths in the Battle of the Bluegrass at Club Pelican Bay in Naples, Florida … Appeared in all four events in the fall and posted a 73.9 stroke average, including four rounds of par or better … Tied for 59th at The Ally at Old Waverly Golf Club in West Point, Mississippi, with a score of 13-over par … Posted a 1-over-par 217 (74-71-72) for the second straight tournament at the Ruth's Chris Tar Heel Invitational and tied for 29th at UNC Finley Course in Chapel Hill, North Carolina … Rebounded from a tournament-opening 77 to card a 3-under-par 69 and a 1-under-par 71 at the Mason Rudolph Championship, tying for 27th place at 1-over par overall (217) …. With a 69 in the second round at Vanderbilt Legends Club in Franklin, Tennessee, recorded her 18-hole collegiate low for the fifth time … Kentucky's top finisher at the Wolverine Invitational with a 14th-place showing … Carded a 5-over-par 218 (72-74-72) at the University of Michigan Golf Course in Ann Arbor, Michigan … Dean's List spring 2022 … SEC Spring Academic Honor Roll member.
Summer 2021: Represented Spain at the European Ladies' Team Championship at Royal Country Down Golf Club in Northern Ireland, where Spain finished in seventh place ... Played in the European Ladies' Amateur Championship with a four-round score of 8-over par at Royal Park I Roveri in Turin, Italy … Tied for sixth place at the Campeonato de Espana Amateur III Memorial Emma Villacieros at Real Club de Golf de La Coruña in Coruña, Spain.
2020-21 (Sophomore): Averaged 74.3 strokes per round in nine events, the second-best mark on the team … Tied for the team lead with three top-20 showings … Six rounds of par or better, tied for second on the squad … Carded the low 54-hole round (210) and 18-hole round (69), the latter of which she did four times … Played in Kentucky's first NCAA Championship finals appearance in 29 years … Tied for 105th with a score of 15-over par at the Grayhawk Golf Club's Raptor Course in Scottsdale, Arizona … Strong showing at the NCAA Columbus Regional from start to finish to lead Kentucky to its first NCAA Championship finals berth since 1992 … Went 2-under par on the back nine with UK's postseason fate hanging in the balance to help the team to a fourth-place finish … Tied for fifth place individually with a 1-over-par 217 (73-71-73) at the Ohio State University Golf Club Scarlet Course in Columbus, Ohio … Shot one of the lowest 54-hole rounds in school history at the Southeastern Conference Championship with a 6-under-par 210 to tie for 17th place at Greystone Golf & Country Club's Legacy Course in Birmingham, Alabama … All three rounds at the SEC Championship were under par or better, including a pair of career-low-tying 69s in the first two rounds … Her 210 was not only the best by a Wildcat this season, it led UK to the lower 54-hole round at the SEC Championship in school history … Contributed all three scores to the team with a 75-75-74 for an 8-over-par 224 to tie for 34th at the LSU Tiger Golf Classic at the University Club in Baton Rouge, Louisiana … Tied for 49th place at the Liz Murphey Collegiate Classic with a score of 15-over par … Bounced back in the final round with a career-low-tying 69 in the final around at UGA Golf Course in Athens, Georgia … Finished in 74th place at the Gamecock Intercollegiate with a score of 13-over par at Columbia Country Club in Blythewood, South Carolina … Tied for 35th with a score of 11-over par at the Florida Gators Invitational at Mark Bostick Golf Course in Gainesville, Florida … Nearly shot a 54-career-low at the UCF Challenge with a 3-over-par 219 to tie for 19th … Fired a career-low 69 in the second round at Eagle Creek Golf Club in Orlando, Florida … Made her Kentucky debut at the Liz Murphey Fall Collegiate Classic, where she tied for 38th with a score of 9-over par at the UGA Golf Course in Athens, Georgia … SEC First-Year Academic Honor Roll member … Dean's List in fall 2020.
2020 Summer: Captured the Championship of the Principality of Asturias Absolute Women with a three-round score of 4-over par … Came from three spots on the final day at La Llorea Municipal Golf Course in Asturias, Spain … Tied for 12th at the Spanish Individual Women's Championship at Escorpión Golf Club in Valencia, Spain.
2019-20 (Freshman at Augusta): Major contributor as a freshman, appearing in six team events in a shortened season with a 73.6 stroke average … Finished in the top 25 in four of her six appearances with 13 of her 18 rounds at 74 or lower, including five rounds of par or better … In all four of her top-25 finishes, Villanueva Aperribay posted a 54-hole score of 219 or better ….Tied for 57th at the Moon Golf Invitational with a score of 10-over par at the Duran Golf Club in Melbourne, Florida … Posted her best finish of the season at the Lady Puerto Rico Classic by tying for 16th place, the best performance on the team … Shot 3-over par (219) with scores of 72-76-71 at the Rio Mar Country Club in Rio Grande, Puerto Rico … Tied for 21st at the Battle of the Beach at Club Campestre in San Jose del Cabo, Mexico, with a 3-over-par 219 (76-71-72) … Notched her 54-hole collegiate low with a 2-over-par 218 (73-72-73) at the Illini Invitational at Medinah … Tied for 24th at Illinois' tournament at Medinah Country Club in Medinah, Illinois … Augusta's top finisher at the Windy City Collegiate, finishing in 49th place with a score of 7-over par at Glen View Club in Golf, Illinois. … In her college debut at the Mercedes-Benz Intercollegiate, fired a 219 (6-over par) to tie for 25th at the Cherokee Country Club in Knoxville, Tennessee.
Before Augusta: Member of the Spanish national program since 2014 … Represented Spain in the Cuadrangular Match in 2018 against Italy, Germany and France … Posted a runner-up finish for Team Spain at the Spanish Interautonomic Championship (under 18) in 2016 and 2017 … Also recorded a runner-up showing at the Spanish Interautonomic Match Play Championship in 2016 for Spain … Accomplished international competitor with a number of victories … Won the Spanish Amateur Championship in 2019 by nine strokes with a score of 8-under par … First-place finish at the Grand Prixe de la Nivelle in France in 2017 … Won the Basque Country Regional Amateur Championship in 2013 and 2016 … Also claimed the Basque Country Regional Girls Championship in 2015.
Personal: Born April 7 in San Sebastián, Spain, which she still calls home … Daughter of Ángel Villanueva and Margarita Aperribay … Has an older brother, Javier … Attended the Leonés School in Castile and León, Spain, for two years prior to attending Augusta for her first season in college golf … Transferred to UK over Mississippi State and South Carolina … Considers helping her country, Spain, to a second-place finish at the European Girls' Team Championship in 2019 to be her crowning golf achievement entering her UK career… Plans to major in finance and economics.
Why she chose UK: "From the first moment I met Golda (Borst) and Brian (May), they treated me very well. I also like they way they see golf the desire they have to help their players."
Villanueva Aperribay's Scorecard:
| | | | | | | | | | | |
| --- | --- | --- | --- | --- | --- | --- | --- | --- | --- | --- |
| Year | Events | Rounds | Strokes | Stroke Avg. | Low 18 | Low 54 | Top 10* | Top 20* | Match Play | Best Finish |
| 2019-20^ | 6 | 18 | 1,324 | 73.6 | 71 | 218 | 0 | 1 | – | T16 (Lady Puerto Rico Classic) |
| 2020-21 | 9 | 27 | 2,007 | 74.3 | 69 | 210 | 1 | 3 | – | T5 (NCAA Columbus Regional) |
| 2021-22 | 11 | 30 | 2,228 | 74.2 | 69 | 217 | 0 | 1 | 0-1 | T14 (Wolverine Invitational) |
| Career | 26 | 75 | 5,559 | 74.1 | 69 | 210 | 1 | 5 | 0-1 | T5 (NCAA Columbus Regional) |
^Played at Augusta

Read more