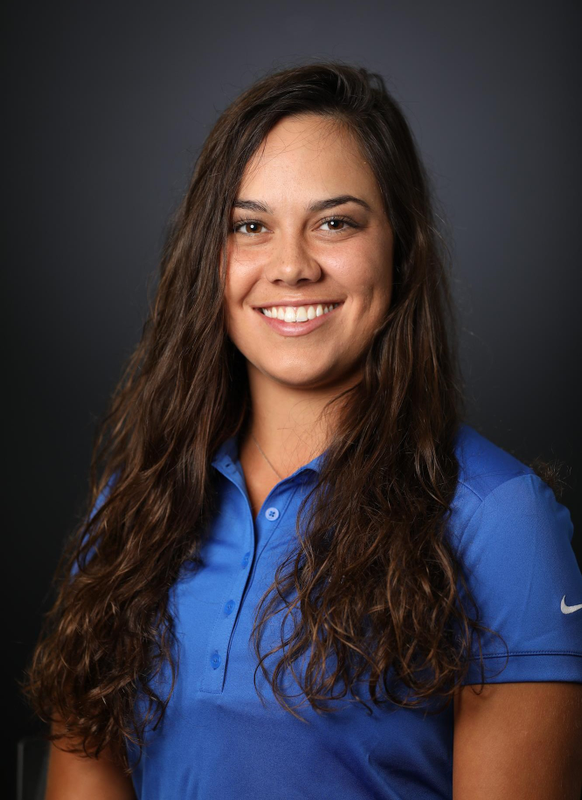 Ale

Walker
class

Redshirt Senior

Hometown

Paintsville, Ky.

Major

Marketing, Management

High school

Paintsville High School
Follow @AlessandraMW on Twitter | Follow @alessandra_walker on Instagram | Career Stats Breakdown (PDF)
2017-18 Chip Shots
Dream course: St. Andrews
Dream foursome (including herself): Hank Williams, Kid Rock, John Daly
First time she broke par: Freshman year of high school
Favorite club: 3 iron 
Favorite golf movie: Caddyshack
Golfer she tries to emulate: Jordan Spieth and Stacy Lewis
 
2017-18 (Redshirt Senior): Carded career bests in her final season in stroke average (75.8), 18-hole low (69) and 54-hole low (216) … Appeared in six events … Team used 11 of her 14 rounds towards the team score … Placed 67th at the SEC Championship in Birmingham, Alabama, with a score of 27-over par … Tied for 60th at 20-over par at the Bryan National Collegiate in Browns Summit, North Carolina … Dropped her match-play decision, 3 and 2, in UK's 3-2 victory over No. 16 Kent State at the University Club of Kentucky … Returned to action for the first time since the Bettie Lou Evans Invitational in October at the Clover Cup in Mesa, Arizona … After a five-month layoff, Walker tied for 13th with a 5-over-par 221 (73-75-73) … Posted a team-best 72.2 stroke average in the fall … Fired a career-low 69 in the first round of UK's Bettie Lou Evans Invitational and was tied for first after 18 holes … Recorded a new 54-hole career low with a 3-over-par 216 (74-70-72) at the Mercedes-Benz Collegiate Championship in Knoxville, Tennessee … 2018 Spring Southeastern Conference Academic Honor Roll member.
Summer 2017: Qualified for stage II of LPGA Qualifying School with a magnificent stage I weekend in Rancho Mirage, California … Three of four rounds in stage I of Q-School were under par … Tied for 48th place in a record field of 362 players in stage I of Q-School, well within the cut of the top 90 players (and ties) that move on to stage II … Posted the 13th-best finish among amateurs at Q-School … Also participated in the the 19th Golf Capital of Tennessee Women's Open in Fairfield Glade, Tennessee … Played on the Sun Coast Tour.
2016-17 (Redshirt Junior): Made five event appearances after missing nearly a year and a half due to injury … Posted two even- or under-par rounds in 13 rounds … Carded a 1-under 71 in the final round of the Ron Moore Women's Intercollegiate in Highlands Ranch, Colorado, for a 54-hole score of 221, her best of the season … Finished in a career-best tie for fourth in the stroke-play portion of the East and West Match Play Challenge in Ann Arbor, Michigan … Fourth-place finish included a then-career-best-tying 2-under 70 in the second round … Debuted in the 2016-17 season after nearly a year and a half off due to injuries with a 74 in the first round of the Minnesota Invitational in Minneapolis … 2017 Spring SEC Academic Honor Roll member.
Summer 2016: Played in the Kentucky State Amateur, losing on the last hole of match play to go to the finals … Missed out on the Ohio Open amateur division title by one stroke.
2015-16 (Junior): Did not compete in 2015-16 due to injury … SEC Academic Honor Roll member … Named to the SEC Community Service Team … Dean's List in fall 2015, spring 2016.
Summer 2015: Participated in a UK Athletics service trip to Ethiopia.
2014-15 (Sophomore): Held a scoring average of 76.8 … Had three top-40 finishes and one top-20 finish … Missed the final three tournaments of the season with an injury … Fired a 1-under 71 in the second round of the UCF Challenge … Turned in her best 54-hole score of the season at the Stanford Invitational with a 4-over-par 217 (73-70-74) … Tied for 20th at the "MO"Morial Invitational for the second consecutive year with a 54-hole score of 225 (75-75-76) … SEC Academic Honor Roll member.
2013-14 (Freshman): Competed in all 10 tournaments as a freshman and has recorded one top-20 finish … Turned in her best 54-hole score at the UCF Challenge with a 221 (71-75-75) … Tied for 20th at the "MO"Morial Invitational with a three-day score of 224 (75-77-72) … SEC First-Year Academic Honor Roll member … Women's Golf Coaches Association All-American Scholar Team member … Dean's List in fall 2013.
Summer 2013: Placed second in the North East Florida Collegiate Amateur with scores of 74-75-74… Placed third in an American Junior Girls Association tournament at Bellefonte Country Club with 76-72-72 … Top 10 in Sun Coast tour event with 76-76-74… Played in the Kentucky Women's Open and shot 75-79… Won the sportsmanship award for the AJGA at Bellefonte Country Club … Nominated as top 20 in country for the prestigious President Leadership Award by raising money for different awarenesses and causes such as the Hands for Haiti, tornado victims and many other local causes.
Before UK: In 2012, Walker was the regional and All-A State champion, while also claiming the AJGA Greenbrier qualifier … Named the All-Area Player of the Year, regional runner-up and Madisonville Invitational individual champion in 2011 … A five-time state tournament qualifier, All-A Regional champion (2010-12), voted on the All-Area Team (2009-11) and was the first woman to compete in the 2012 Paintsville Invitational, placing third … Was also a two-year letterwinner in soccer, while also lettering in softball one year.
Personal: Born May 23 … Daughter of Butch and Kathy Walker … Has one brother, Bryan … Double majoring in marketing and management … Considers the first round of LPGA Qualifying School in the summer of 2017 as her most memorable round of her career because she showed up when it counted.
Why she chose UK: "UK prides itself on being both academically and athletically competitive by providing their athletes with whatever they need to be a successful person."
Walker's UK Scorecard 
| | | | | | | | | |
| --- | --- | --- | --- | --- | --- | --- | --- | --- |
| Year | Events | Rounds | Strokes | Stroke Avg.  | Low 18 | Low 54 | Top 10* | Top 20* |
| 2013-14 | 10 | 30 | 2,293 | 76.4 | 71 | 221 | 0 | 1 |
| 2014-15 | 7 | 21 | 1,612 | 76.8 | 70 | 217 | 0 | 1 |
| 2015-16 | – | – | – | – | – | – | – | –    |
| 2016-17 | 5 | 12 | 915 | 76.3 | 70 | 221 | 1 | 1 |
| 2017-18 | 6 | 14 | 1,061 | 75.8 | 69 | 216 | 0 | 1 |
| Career | 28 | 77 | 5,881 | 76.4 | 69 | 216 | 1 | 4 |
*Does not include dual matches
Read more