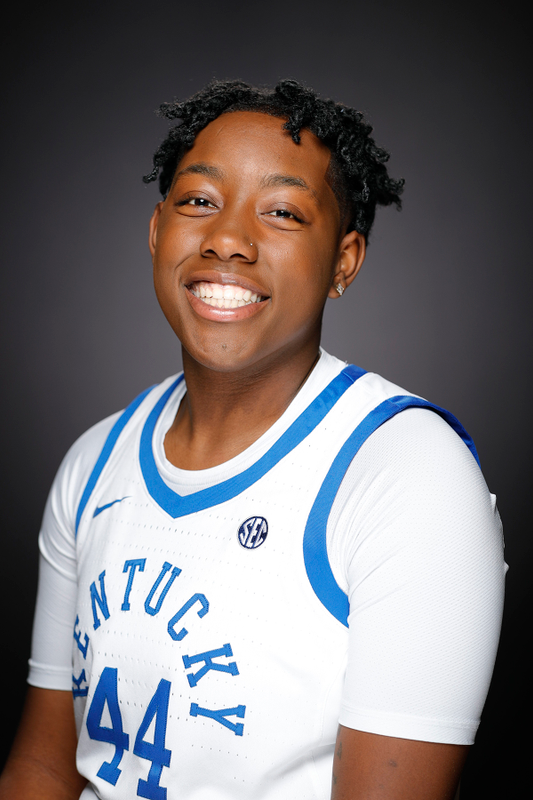 44
Dre'una

Edwards
position

Forward

height

6-2

class

Redshirt Sophomore

Hometown

Compton, Calif.

Previous School

Utah

Major

Social Work

High school

Liberty HS
The 2019 Pac-12 Freshman of the Year after an incredible rookie season at Utah … Transferred to Kentucky in the spring of 2019 and sat out the 2019-20 season due to NCAA transfer rules … Sustained a torn ACL at the end of the 2019 season … When healthy, is a difference marker all over the floor for the Wildcats … Loves to be physical on the inside and can also run the floor and be dynamic on the fast break. 
2020-21 (Redshirt Sophomore)
Impressed playing her first action as a Wildcat, playing in 27 games with 11 starts … Averaged 9.7 points per game and 6.1 rebounds per game … Hit 12 3s during the year and had 21 blocks and 24 steals … Scored 10 or more points 12 times during the year, including 15 or more six times and 20 or more once … Had 10 or more rebounds five times during the year and led UK in rebounds seven times … Led UK in scoring three times, assists twice, steals twice and blocks nine times … Had four double-doubles during the season … Recorded a double-double against Belmont, scoring a career-high 27 points and tying a career-high 15 boards, leading the game in both categories, also recording three steals … For the second straight game, earned a double-double at Kansas State on a game-high 16 points and grabbing a game-high 12 rebounds, adding four steals and two assists … For the third straight game, earned a double-double against No. 13 Indiana, earning 14 points and 10 rebounds on 5-of-8 shooting and 2-of-2 from long range … Scored 13 points on 6-of-7 shooting against Marshall, recorded eight rebounds and a career-high five assists … Shot 77 percent from the field vs. Samford, scoring 15 points on 7-of-9 shooting, while also recording six rebounds, four assists and a block … Recorded her fourth double-double of the season at DePaul, earning 18 points and 11 rebounds, also adding a team-high five assists and a career-high four blocks … Led Kentucky in scoring against Wofford, scoring 19 points on 8-of-10 shooting and 3-of-3 from the line, also grabbing eight rebounds and blocking two shots … Recorded seven points, 11 rebounds, two assists and two blocks at then-No.12 Mississippi State … Scored 12 points and grabbed seven boards against then-No. 5 South Carolina … Put up 17 points against Vanderbilt, adding eight rebounds and tying for a career-high four blocks … Came off the bench at Auburn and scored 10 points, making 5-of-6 shots, while nabbing five rebounds … Scored 10 points on 4-of-8 shooting, grabbed four rebounds and forced a steal against Alabama at Rupp Arena … Scored 10 points and grabbed nine boards against Missouri, adding one assist and one block … Recorded seven points, six rebounds, four assists, three blocks and a steal against Tennessee at Rupp Arena … Scored six points and grabbed four boards against Florida in the second round of the SEC Tournament … Played an important role in Kentucky's NCAA Tournament First Round win against Idaho State, scoring nine points, collecting seven rebounds, forcing two steals and adding one assist … Scored 16 points with five rebounds, three steals and two 3s against Iowa in the second round. 
2019-20 (Sophomore)
Sat out due to NCAA transfer rules and recovered from injuries. 
at Utah
Outstanding freshman season at Utah starting in 26 games and averaging 11.6 points and 6.7 rebounds per game en route to Pac-12 Freshman of the Year honors … Scored 20 or more points three times for the Utes, including 18 double-digit scoring games … Top performance on the year came against UCLA, scoring a career-high tying 21 points while shooting 50 percent from the field and a perfect 9-of-9 from the free-throw line … Also had 21 points against Arizona and recorded a career-high 15 rebounds twice on the year … Shot 54 percent from the field and 76.3 percent from the free-throw line … Ranked as one of the best freshman in the nation in 2018-19 as evident by her earning six Pac-12 Freshman of the Week honors … Strong field-goal percentage would have ranked second nationally among freshmen had she not missed the team's final four games due to injury … Shot 50 percent or better from the field in 17 games and had five or more rebounds in 20 games … Added 40 steals, 36 assists and 29 blocks.
 
High School
Was a two-time Southwest League Player of the Year for Liberty High School in Las Vegas averaging 18.4 points, 10.3 rebounds, 3.9 steals and 1.7 blocks per game as a senior … Averaged 16.8 points and 14.0 rebounds per game as a junior … Led her team to four straight regional championships and a state championship game appearance in 2018 … Named Las Vegas Review-Journal First-Team All-State in 2018 and was a two-time USA Today All-USA Nevada Girls Basketball First-Team selection … As a senior, she was tabbed to the Naismith Trophy Girls High School Player of the Year watch list.
Personal
Place of Birth: Compton, Calif. … Parent(s): Shonnise Harston and Andre Edwards … Siblings: Has eight brothers and sisters … Shooting Hand: Right … Major: Social Work
Read more