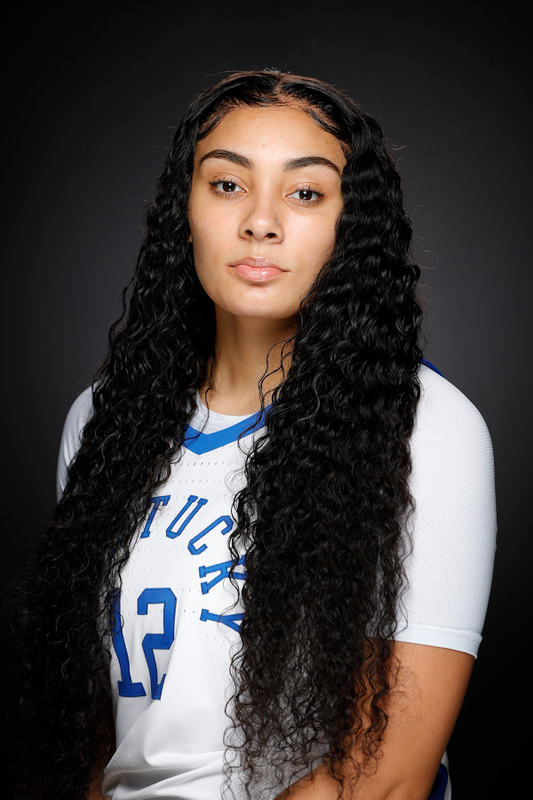 12
Treasure

Hunt
position

Guard

height

6-1

class

Sophomore

Hometown

Chattanooga, Tenn.

Major

Exploratory Studies-Ag

High school

Hamilton Heights Christian Academy
Athletic, versatile guard that can play multiple positions and score at an extremely high level … Improved each day last season and is expected to have a major impact on the 2021-22 team … Worked hard on her defense in high school and became a talented defender, which will fit Kentucky's system perfect … Familiar with several teammates, playing high school basketball with Jazmine Massengill at Hamilton Heights and club basketball with Rhyne Howard … Chose Kentucky over Baylor, South Carolina, Mississippi State and Auburn.
2020-21 (Freshman)
Strong improvement as her rookie season went on and finished the year playing her best basketball … Saw time in 15 games with one start … Scored 10 or more points twice and led UK in assists once, steals once and blocks once … In her collegiate debut against Murray State, scored 12 points in just 13 minutes, going 5-of-10 from the field, including scoring a pair of 3-pointers … Made her first career start for Kentucky against Vanderbilt, scoring 11 points, adding five rebounds, two assists and two blocks … Saw five minutes against Alabama at Rupp Arena, hitting a 3-pointer on 1-of-1 from long range, adding two defensive boards and an assist … Checked in at Georgia, playing for more than five minutes grabbing two rebounds … Played for 25 minutes against Ole Miss, scoring eight points on 3-of-5 shooting and 2-of-2 from the arc, adding two rebounds, one assist and one block … Played for 24 minutes against Florida in the second round of the SEC Tournament, scoring nine points of 4-of-8 shooting, while grabbing seven rebounds, leading the team with four assists and earning one block … In the quarterfinals against Georgia, she played for 13 minutes, scoring six points on 2-of-2 from the arc and blocking one shot.
High School
Ranked as a top-10 player in the 2020 class by the All Star Girls Report, while ProspectsNation.com tabs her as their 15th best player in the class … A five-star guard according to ESPN.com that ranks her the 28th best player in the 2020 class and the fifth best wing/guard … ESPN.com observed Hunt at a tournament in March and described her as a "strong, athletic perimeter prospect with a college-ready frame who drives and finishes plays in traffic; knocks down jump shots with range to the arc; active in passing lanes, coverts plays from turnovers; a coveted prospect in the class of 2020" … A gold medalist from the USA Basketball U18 3×3 Tournament, defeating some of the best players in the nation under the age of 18 in the event … An incredible senior season at Hamilton Heights Christian Academy, where she is coached by her mother, Keisha … Helped Hamilton Heights to a 25-1 record and No. 2 final ranking nationally by MaxPreps …  During her career, she scored over 2,000 points and helped her team win over 100 games … As a senior, she averaged 24.7 points per game with 5.3 rebounds per game, 2.3 assists per game, 1.6 steals per game and 1.2 blocks per game … 2020 Women's Basketball Coaches Association High School Coaches' All-America honorable mention and 2020 Jersey Mike's Naismith National High School All-America third team … Named to the 2020 Jordan Brand Classic and 2020 McDonald's All-American Game roster while she was one of 10 semifinalists for the 2020 Naismith High School Girls Trophy … As a junior, she averaged 19.4 points, 4.7 rebounds, 3.1 assists and 2.3 steals per game. … Was one of five women's players in the nation invited to Steph Curry's 30 Select Camp in 2019 … On top of being invited to USA Basketball U18 tryouts, she was invited to the Slam Summer Classic in New York City, the John Lucas Top 160 Camp and was a member of the 2019 Run for the Roses All-Tournament Team … Led Hamilton Heights to 20+ wins a sophomore averaging 13.7 points per game with 3.3 rebounds per game, while she hit 44 3-pointers with 64 assists, 41 steals and 19 blocks … Also averaged 13 points as a freshman … Helped lead the FBC United travel team to an undefeated run and league championship in the Under Armour circuit.
Personal
Place of Birth: Baton Rouge, La. … Parent(s): Keisha Hunt … Siblings: Has two sisters, Amber Hunt and Raven Ray, and one brother, Josh Hunt … Shooting Hand: Right … Major: Exploratory Studies-Ag
Read more