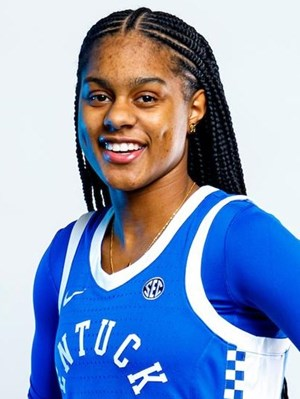 3
Kennedy

Cambridge
position

Guard

height

5-8

class

Freshman

Hometown

Nashville, Tenn.
Athletic combo guard that Kentucky signed in the late period … Spoke after her signing about the relationship she built with UK coaching staff and how it was the difference maker in her recruitment … Exceptional offensive skillset that translated well to the SEC … Older sister plays basketball at Vanderbilt (2018-present) and has two brothers that play basketball at Arizona State.
2022-23 (Freshman)
Played in 19 games and made one start … Averaged 2.7 points per game and 2.3 rebounds per game in just 14.4 minutes per game in 2022-23 … She added 23 assists, 21 steals and three blocks in her rookie season … Made her first career start against Georgia, recording a career-high tying eight rebounds in 32 minutes … Had a career-high tying nine points at Ole Miss, adding three steals, two rebounds, a block and an assist … Recorded a couple of rebounds, an assist and a steal at then-No. 1/1 South Carolina … Rallied a couple of rebounds and a couple of points against Auburn, adding an assist and a steal … Had seven points at Mississippi State on 2-of-2 from the field, including 1-of-1 from the arc, while also going 2-of-2 from the line, adding two steals … Recorded three steals, two points and a rebound at Florida … Had three rebounds, two assists, two steals and a point against then-No. 1/1 South Carolina … Had three rebounds and two assists against then-No. 7/6 LSU, adding two points and a steal … Came off the bench at Georgia to record a career-high eight rebounds, five points, three assists and a steal … Scored six points against then-NR/RV FGCU, adding a rebound, an assist and a steal … Dished out three assists against Murray State, adding two points and two rebounds … Dished out three assists against then-RV/No. 24 Louisville, adding three rebounds, two points and two steals … Played 12 minutes in first true road game of the season at Minnesota, including the final three minutes of the game, recording five points, three rebounds, one steal and one assist … In her college debut against UNC-Greensboro, scored a career-high nine points on 3-of-4 from the field, adding four rebounds, an assist and a block.
High School
A four-star prospect according to ESPN.com, which ranks her as the 36th-best guard in the 2022 class … Ranked No. 52 overall by All-Star Girls Basketball Report … Helped Ensworth High School win their third state title in the last four seasons in 2022, averaging 14.8 points per game, 4.6 rebounds per game, 3.6 steals per game and 3.0 assists per game … Scored 11 points in the state semifinal game and posted a game-high 21 points with 11 rebounds, five assists and five blocks in the state championship game … Was a finalist for the Tennessee Miss Basketball award in 2022 … Was named to the All-Midstate Team in 2022 … Helped Ensworth to the state semifinals as a junior averaging 13.2 points with 2.8 assists per game … As a sophomore, she averaged 7.2 points, 3.1 assists, 2.9 steals and shot 55.2 percent from the field in helping Ensworth to the state championship.
Read more