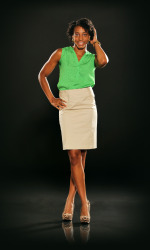 32
General
Has seen action in 105 career games with 60 starting assignments … Major contributor to the team's defensive intensity as she often picks up the opposing point guard on the defensive end … Explosive and versatile athlete who can play multiple positions … Comes from a family of athletes as her father is former New York Jets player Ray Evans and brother R.J. played on the men's basketball team at Holy Cross (undergraduate) and Connecticut (graduate) … Majoring in business management with a minor in African-American Studies … Named to UK's Athletic Director's Honor Roll after earning a team-high 4.0 GPA in the fall semester … Named to UK's prestigious Society of Character in 2013, which honors Wildcats who have shown an extraordinary commitment to academic excellence, athletic participation, personal development, career preparation and serving as a role model … Coach Mitchell says, "Kastine is the glue that holds our team together."
• SEC Community Service Team (2013)
• UK's Society of Character (2013)
• Darrell A. VanMeter Community Service Award winner (2013)
• SEC First-Year Academic Honor Roll (2010-11)
• SEC Winter Academic Honor Roll (2012-13, 2011-12, 2010-11)
• UK's Athletic Director's Honor Roll (2012-13, 2010-11)
• Lady Eagle Classic All-Tournament team (2010-11)
2012-13 (Junior)
Named to the SEC Community Service Team and to UK's Society of Character … Awarded UK's prestigious Darrell A. VanMeter Community Service Award after creating her own non-profit organization called "Shooting at Success" which provides children with an outlet that to create opportunities for strong character development, help establish dynamic and powerful personalities, and inspire children to achieve academically, in any extracurricular activity, and in life…. One of 10 female finalists for the Arthur Ashe Jr. Sports Scholar Award … Played in all 36 games, starting the last 14 … UK's sixth-leading scorer with 4.3 ppg … Improved her scoring average from 3.8 ppg as a reserve to 5.1 ppg as a starter in the final 14 games … Scored eight points in the Sweet 16 win over Delaware, including a game-clinching 3-pointer with 2:21 remaining to extend the Cats' lead to 65-60 … Dished out a career-high five assists in the win over No. 8/8 Tennessee (3/3) … Tied her season high with 12 points and two steals on 5-of-9 shooting from the field at No. 10/13 Texas A&M (2/18) … Recorded all 11 of her points in the Wildcats' 16-point second half comeback vs. No. 16/14 South Carolina (2/14), including four points in the final 25 seconds of the game … Made her first start of the season and the 47th of her career at Arkansas (2/7), playing a career-high 40 minutes and recording six points on two made triples.
2011-12 (Sophomore)
Averaged 7.0 pts and 3.9 rebounds in 35 games … Averaged 8.0 pts and 6.3 rebs in NCAA Tournament play … Second on the team in 3-point field goal percentage, netting .366 (30-of-82) … Hit at least one 3-ptr in 16 of the last 18 games … No. 12 in steals in the SEC (1.7 spg) … Scored 10 pts vs. UConn in the Elite Eight … Grabbed a career-high 10 rebs vs. Gonzaga … Scored 10 pts vs. Green Bay … Scored seven points to go with a season-high tying seven boards vs. McNeese State … Had three assists vs. LSU in the SEC Tourn. semifinals … Was 2-2 from field and 4-4 from line vs. Florida in SEC Tourn. quarterfinals … Hit both of her 3-pt attempts en route to scoring eight pts at Mississippi State … Scored 12 pts, grabbed a career-high seven steals and hit a career-high tying two 3s vs. Ole Miss … Scored seven pts and grabbed six rebs vs. Alabama … Hit a career-high tying two 3-ptrs at Auburn for the second straight game … Scored 10 pts, including a career-high tying two 3-ptrs, and pulled down seven rebs vs. Florida … Had six rebs at South Carolina … Grabbed seven boards vs. Middle Tenn. … Scored 11 pts vs. Samford … Had a balanced effort vs. No. 6 Duke, with six pts, a career-high tying four assists and two steals … Scored nine pts and grabbing six rebs vs. Louisville … Had 10 pts, four rebs and three steals against Mississippi Valley State … Grabbed six rebs and had four steals against Sam Houston State … Scored 11 pts against Nebraska Omaha … Scored 13 pts, including a career-high six free throws, and had a season-high seven rebs and three steals against Southern Miss. … Scored nine pts to go with a then career-high four assists and five steals vs. Jacksonville State … Came off the bench to score a career-high 23 pts on 8-12 shooting in the season opener against Morehead State.
High School
Ranked as the 67th overall player and the 18th-best shooting guard in the country, according to ESPN HoopGurlz … Gatorade Connecticut Player of the Year (2010) … New Haven Register Player of the Year (2010) … CHSCA Player of the Year (2010) … Norwich Hall of Fame Sports Person of the Year (2010) … Two-time The Day Player of the Year (2009 and 2010) … Two-time Norwich Bulletin Player of the Year (2009, 2010) … Three-time first-team All-State honoree (2008, 2009, 2010) … Four-time member of the All-Area teams (2007, 2008, 2009, 2010) … Amassed 1,700 career points … Averaged 20.2 points per game as a senior in leading Norwich to the state championship title … Averaged 19.7 ppg as a junior in the Wildcats to a 24-2 overall record and the Class LL title … Notched a game-high 24 points, 15 rebounds and four steals to earn tournament MVP honors and lead Norwich to a 63-42 victory in the final game of her junior season …. Three-time honoree of the Judy Pemberton Bell Award which recognizes a varsity player who demonstrates hard work, dedication and a high level of leadership and sportsmanship … Also an outstanding volleyball and track athlete for NFA, helping her teams win one state championship in volleyball and two in track and field … Member of the Nexus Club for Black Achievement … Honor-roll student … Volunteered locally on behalf of youth basketball programs.
The Cats' Cause
Participated in a service trip in Ethiopia during the summer of 2012 where she interacted with residents of impoverished communities, planned sporting activities with children and helped renovate houses. When she returned home, she began working with UK's administration and compliance personnel to create her own non-profit organization for children called, "Shooting at Success." SAS, which launched on Jan. 28, 2013, provides children from low income families an outlet after school to help them create strong character development, establish dynamic and powerful personalities, and inspire them to achieve academically, in extracurricular activities, and in life … She also has volunteered at Lexington's local Ronald McDonald House, a "home away from home" for seriously ill children and their families. She, along with teammate Samarie Walker, cleaned rooms in the house once a week … Helped pack relief bags for UK's Joplin Tornado Relief program … Volunteered as a Salvation Army bell ringer during the holiday break … Volunteered at Lexington's Fire Prevention Parade.
Loading…
Read more