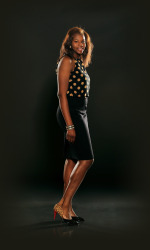 11
DeNesha

Stallworth
height

6-3

class

Senior

Previous School

California
General
UK's leading returning scorer for the 2013-14 season … Played two seasons for the California Golden Bears prior to transferring to Kentucky … Sat out the 2011-12 season due to NCAA transfer rules …Started in 35 games in her first season with the Wildcats … Eclipsed the 1,000-point mark for her career vs. DePaul on Dec. 7, 2012 … Totaled 928 points in two seasons at Cal and has 438 points in one season at UK, giving her 1,366 in 106 career games … Also has grabbed 663 career rebounds … Holds career averages of 12.9 points and 6.3 rebounds per game … Has charted 21 career double-doubles, including a team-high nine at UK … One of four McDonald's All-Americans on the team … Major is family science with a minor in African American Studies … Aspires to be an American Sign Language interpreter.
• All-SEC, first team (coaches) (2012-13)
• All-SEC, second team (AP) (2012-13)
• SEC Winter Academic Honor Roll (2012-13)
• SEC Player of the Week (Dec. 10, 2012)
• NetScouts SEC Player of the Week (Dec. 11, 2012)
2012-13 (Junior)
Started in 35 of UK's 36 games … Did not see action at Ole Miss (2/18/13) due to an illness … Named first-team All-SEC (Coaches), second-team All-SEC (AP), and named to the SEC Winter Academic Honor Roll with a 3.6 grade point average in the fall semester … Second on the team in blocks (52), scoring (12.5 ppg), rebounds (6.0 rpg), field goal percentage (.484) and field goals made (181), and third in assists (1.9 apg) … Ranked top-20 in the SEC in scoring (16th, 12.5 ppg), rebounding (19th, 6.0 rpg), field goal percentage (4th, .484) and blocks (5th, 1.5 bpg) … In SEC-only games, ranked 19th in scoring (12.6), 16th in rebounding (6.5) and fourth in blocked shots (1.6) … Fifth on UK's single-season blocks list with 52 … Grabbed a team-high nine double-doubles … Scored in double figures in 27-of-35 games play, including 11-of-15 SEC contests … Averaged 11.3 points and 6.3 rebounds in four NCAA Tournament games … Posted a double-double in leading the Wildcats to a win over Navy in the NCAA Tournament first round with 18 points and 11 rebounds … Had two 20-point games, including 21 vs. Marist (12/30) and a UK career-high 25 vs. Mississippi State (1/17) … Kentucky's leading scorer eight times.
2011-12
Sat out due to NCAA transfer rules
2010-11 (Sophomore-Cal)
Led the team in scoring, averaging 13.3 points per game (8th in the Pac-10) while grabbing 6.4 rebounds a game (12th in the Pac-10) … Named an All-Pac-10 media selection in helping lead her squad to the Women's National Invitational Tournament for the second straight season … Began the season as the first Cal player since the 2007-08 season to have four consecutive double doubles … Just missed a fifth double double with 19 points and 8 rebounds against Fullerton … Began the season with nine consecutive games scoring in double digits … Tied a career high with 11 rebounds against Yale … Scored 20 points in the first half against Portland State, making her first six field goal attempts … Named to the Colliers International Classic All-Tournament team … Scored a season-high 27 points against Long Beach State … Had back-to-back 20-point games against USC and UCLA, the second time in her career she accomplished that … Charted her seventh 20-point game of the season, playing 40 minutes at home against Washington State … Scored 12 points in the final game of the season at Colorado.
2009-10 (Freshman-Cal)
Only player to start all 37 games … Selected to the Pac-10 All-Freshman Team and the official Pac-10 All-Freshman team as Cal's second-leading scorer (12.9) and rebounder (6.4 ppg) … Swatted a team-high 42 blocks, the 11th-highest single-season total in program history … Second-highest block total among Pac-10 freshmen and fifth overall among the Pac-10 players … Helped lead the Golden Bears to the 2010 WNIT Championship title … Named to the WNIT All-Tournament Team selection after averaging 15.7 points and 7.3 rebounds … Ranked second among Pac-10 freshmen in scoring and third among the rookies in rebounding and charted the best field-goal percentage among all Pac-10 freshmen at 50.5 percent, ranking fifth overall in the Conference and 43rd among all NCAA DI players (with a minimum of 5.0 field goals per game) … Scored 17 points with three assists and eight rebounds in her Cal debut … Scored in double-digits in the first seven games of her collegiate career … Became just the second Cal freshman to score 30 points in a game (at USC) … Logged her first career double-double with 14 points and 10 rebounds against USC … Had back-to-back 19-point scoring games in the home series against Oregon and Oregon State … Had the second double-double of her career against Oregon, adding 11 rebounds to the 19 points … Had the first back-to-back 20-point scoring games of her career with 28 points in the WNIT game at Oregon followed by 26 points against BYU … Closed out the season with her third 20+ point game of the WNIT, scoring 21 against Miami.
High School
Named a 2009 McDonald's All-American and 2009 WBCA All-American after an impressive prep carer … 2009 Parade Magazine Fourth Team All-America and first-team All-State selection … 2008 Street & Smith All-American honorable mention … Rated as the No. 12 prospect in the nation by Blue Star, No. 15 by Collegiate Girls Basketball report, No. 24 by ESPN HoopGurlz and No. 32 by the All-Star Girls Report, including the No. 4 forward prospect by ESPN HoopGurlz … Ranked as the No. 1 prospect in the class of 2009 by NorCal Prep … Finished her high school career with 2,170 points and 1,002 rebounds and was a three-time Most Valuable Player at PVHS … Leading scorer in the state of California for the 2008-09 season, averaging 27.7 ppg … MVP of all the summer tournaments she played in (2006-08) … Earned a CIF Championship at PVHS in 2007.
Loading…
Read more