UK Athletics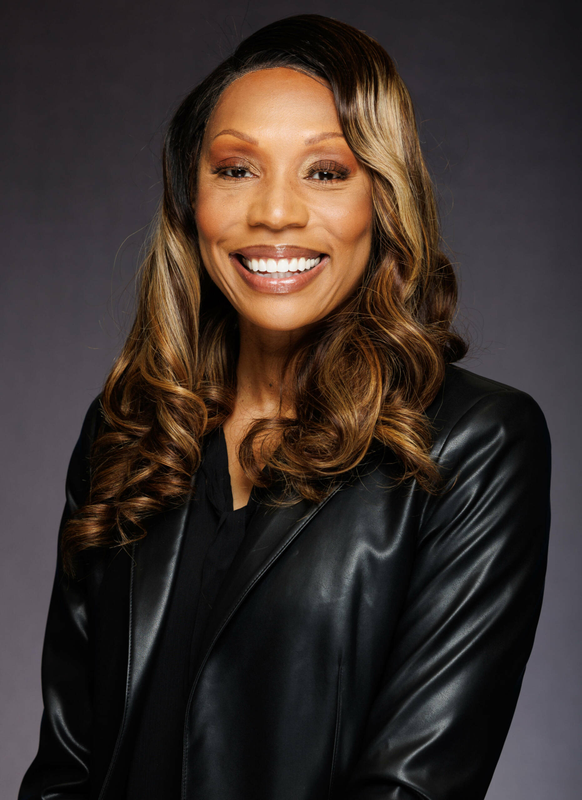 Follow Coach Elzy on Twitter | Instagram
Kyra Elzy, an Oldham County, Kentucky, native, has spent more than a decade building the Kentucky women's basketball program into a national power.
For eight seasons, she served as an assistant coach and an associate head coach for the Wildcats (2008-12, 2016-20), before being named the eighth head coach in program history in 2020. UK Athletics Director Mitch Barnhart named Elzy the interim head coach on Nov. 12, 2020, after Matthew Mitchell retired from coaching, and the interim tag was removed just one month later.
Elzy enters her 12th season at Kentucky and her fourth season at the helm of the program in 2023-24.
In just three seasons as the head coach, she has crafted an unprecedented resume.
In 2022-23, she had another exciting stretch at the Southeastern Conference Tournament. Elzy led Kentucky to its 14th straight appearance in the SEC Tournament Quarterfinals, which was the longest active streak among all league programs at the time. In doing so, she guided the No. 14 Wildcats past No. 11 Florida and No. 6 Alabama in a pair of double-digit upsets.
In the process, Elzy also tied the SEC Tournament record for the best eight-game start of any head coach in SEC history, after boasting a 7-1 record through her first eight games at the conference championship.
In her first two seasons at the helm in 2020-21 and 2021-22, Elzy became the first head coach in program history to lead Kentucky to back-to-back NCAA Tournaments in their first couple of seasons. Before earning their second straight bid to the tournament, the Wildcats accomplished something perhaps even more exciting under her tutelage. Elzy led Kentucky to its second SEC Tournament title in program history, and its first since 1982, when it defeated No. 1 South Carolina, 64-62, at Bridgestone Arena in Nashville, Tennessee, on March 6, 2022. Elzy became the fifth coach in league history to win the tournament title in the first two seasons on the job, joining Joe Ciampi (Auburn), Jim Foster (Vanderbilt), Melanie Balcomb (Vanderbilt) and Holly Warlick (Tennessee).
Kentucky, which was the seventh seed at the conference tournament, became the second-lowest seed to ever win the SEC Women's Basketball Tournament, while Elzy's Wildcats became the only No. 7 seed in any power-five conference tournament to ever defeat the No. 1, 2, and 3 seeds en route to the conference tournament title. Moreover, the Wildcats became the fourth team to ever defeat the No. 1 team in the Associated Press Poll in the SEC Tournament championship game. In defeating the top-ranked Gamecocks, Elzy aided UK to just its second win ever against a No. 1 team in the AP Poll.
In addition, Elzy guided Kentucky to a 10-game win streak en route to that tournament title, UK's longest win streak in conference action in a decade (2011-12).
Her first season at the helm of the program was just as exciting for Big Blue Nation, as she led the 2020-21 Wildcats to a 6-0 start, including a win against top-15 ranked Indiana. The six straight wins to start the year were the second most in program history for a first-year head coach. For her efforts that season, which featured an 18-6 record, including a 9-6 mark in the SEC, she was tabbed the Women's Basketball Coaches Association Spalding Maggie Dixon Division I NCAA Rookie Coach of the Year.
The successful first season of the "Elzy Era" was highlighted by UK earning a top-20 ranking in the Associated Press Top 25 and USA Today / Coaches Top 25 polls all season long. In 2020-21, Kentucky defeated five ranked opponents, including back-to-back triumphs against top-15 teams for the first time since 2013. The two wins led Elzy to be named the espnW National Coach of the Week and the United States Basketball Writers Association tabbed UK its first-ever team of the week. UK was one of 10 teams in the nation to have four wins against top-25 NCAA NET teams entering the tournament. Elzy also became the first UK women's basketball head coach to lead her team to the NCAA Tournament in their first season at the helm.
The national prominence of Kentucky women's basketball over the last decade has been a direct reflection of Elzy's leadership.
In her tenure with the program (2008-12, 2016-present), Elzy has helped Kentucky to seven NCAA Tournaments, not including UK's eventual selection in the 2020 NCAA Tournament that was canceled because of the COVID-19 pandemic, including two Elite Eight appearances. Moreover, in 2012, Elzy helped guide Kentucky to the 2012 Southeastern Conference Championship, which was the program's first since 1982.
All told, in Elzy's tenure on the Kentucky sideline, the Wildcats have won 218 games, including 95 league games and 33 victories over ranked opponents. Elzy has helped Kentucky to a 20-win season on six occasions, including 28 wins in 2010 and 2012. She has coached three SEC Players of the Year (Victoria Dunlap, A'dia Mathies, Rhyne Howard), three SEC Freshmen of the Year (A'dia Mathies, Bria Goss, Rhyne Howard), one SEC Defensive Player of the Year (Victoria Dunlap), two SEC 6th Women of the Year (Keyla Snowden, Chasity Patterson), two SEC Scholar-Athletes of the Year (Alyssa Rice, Maci Morris) and her players have earned 44 All-SEC honors overall.
In-between her two stints at Kentucky, Elzy spent four years (2012-16) as an assistant coach and associate head coach at her alma mater Tennessee. With the Lady Vols, she won two SEC regular-season titles and one SEC tournament title, while also helping Tennessee to three NCAA Elite Eights.
Elite recruiting and top-notch player development have been obvious at all of Elzy's stops. Since 2007, Elzy has signed nine top-20 recruiting classes, including four top-10 classes. In the last six years at Kentucky, Elzy has signed four top-20 classes and brought in some of the highest profile transfers in the game in 2019 Pac-12 Freshman of the Year Dre'una Edwards and five-star recruits Robyn Benton, Jazmine Massengill, Olivia Owens, Eniya Russell, Maddie Scherr and Chasity Patterson.
Elzy has also developed some of the SEC's best talent over the last decade at both Kentucky and Tennessee.
Most recently, Elzy helped produce the program's first ever No. 1 WNBA Draft pick in Rhyne Howard, who was taken first overall by the Atlanta Dream on April 11, 2022.  In the process, Elzy helped UK become one of just 16 programs in the nation to produce a No. 1 WNBA Draft pick all time. Howard won back-to-back SEC Player of the Year honors her sophomore and junior seasons (2019-20, 2020-21), was a three-time SEC All-Tournament Team selection (2020, 2021 and 2022), including the 2022 SEC Tournament MVP, and was named an All-SEC First Team selection all four seasons (2018-22).
Howard, who was the unanimous national freshman of the year in 2018-19, had a sensational collegiate career at Kentucky, where she earned three All-America honors her sophomore season (2019-20) and was named a unanimous All-America her junior and senior seasons (2020-21, 2021-22) as a finalist for every national player of the year award.
In 2017, Elzy helped Evelyn Akhator and Makayla Epps become WNBA Draft selections, as Akhator went third overall and Epps went 33rd overall. It was the first time UK has had two players selected in the same draft, while both Akhator and Epps were also All-SEC and All-America performers.
At Tennessee (2012-16), Elzy had three WNBA Draft selections in Diamond DeShields going third overall and Mercedes Russell going 22nd overall in 2018. Under Elzy's tutelage, Tennessee's Meighan Simmons went 26th overall in the WNBA Draft and was the SEC Player of the Year in 2014.
Elzy's return to Big Blue Nation in 2016 was noticed immediately, as the 2016-17 team, along with the talented 2017 signing class, had her influence.
Most notably, along with assistant coach Niya Butts and former head coach Matthew Mitchell, Elzy installed a zone defense that helped Kentucky become multiple on the defensive end and also limited its foul trouble with a short roster as the Wildcats only fouled 14 times per game. The 2016-17 team won 20 games, advanced to the NCAA Tournament and finished with a No. 14 RPI after playing the second toughest schedule in the nation. With her help, two Wildcats had All-America seasons in Akhator and Epps. Both earned All-SEC First Team honors and were named All-America Honorable Mention by multiple outlets.
When Elzy arrived back on campus in 2016, the Wildcats had only one committed recruit in the Class of 2017, so she went straight to work signing a top-20 class that included four talented high school superstars and one junior college transfer. The Wildcats signed another highly ranked Class of 2018 featuring Howard and Blair Green, who were both high school stars in their respective states. In 2020, Elzy helped sign a top-10 class in Treasure Hunt, a top-10 prospect, and Nyah Levertter, a four-star forward. Her success on the recruiting trails only got better when she was named head coach, as Elzy secured another top-20 Class of 2022, which includes Tennessee State Champion Kennedy Cambridge, four-star post Tionna Herron, four-star guard Saniah Tyler, 2022 Miss Kentucky Basketball Amiya Jenkins and in-state star Cassidy Rowe.
In her first stint at Kentucky (2008-12), Elzy helped Mathies and Dunlap earn SEC Player of the Year and All-America honors. Both Mathies and Dunlap were selected in the WNBA Draft with Mathies going 10th overall in 2013 and Dunlap going 11th overall in 2011.
Elzy started her coaching career as an administrative assistant at Virginia Tech from 2001-02 before she was the recruiting coordinator and assistant coach at WKU from 2002-04. Her last stop before coming to Lexington in 2008 was a successful stint at Kansas from 2004-08.
Elzy, who was born and raised in nearby Oldham County, Kentucky, is the second head coach in program history to be a Kentucky native and the first since Sue Feamster brought the program back to varsity status in the early 1970s. Elzy was a star at Oldham County High School as a two-time All-American and was inducted into the Kentucky High School Basketball Hall of Fame in 2016.
After scoring over 3,000 points and grabbing over 1,700 rebounds in high school, Elzy continued her basketball career at Tennessee under legendary head coach Pat Summitt. A four-year letterwinner, Elzy was a member of two national championship teams in 1997 and 1998 and a national runner-up squad in 2000. She won four SEC regular-season championships and three SEC Tournament titles at Tennessee. Elzy was just the fifth freshman in Tennessee history to start her first game as a Lady Vol.
Elzy owns two degrees from Tennessee, earning a bachelor's degree in psychology in 1999 and followed with a master's degree in cultural studies and education with an emphasis in sports psychology in 2001. She was the first Tennessee player to earn a master's degree while still playing.
Elzy married Dexter Lander – also a Kentucky native – in August 2012 and the couple has one son Jackson.
Kyra Elzy Year-by-Year
Year
School
Position
Record

2022-23

Kentucky

Head Coach

12-19, 2-14 SEC

2021-22

Kentucky

Head Coach

19-12, 8-8 SEC

2020-21

Kentucky

Head Coach

18-9, 9-6 SEC

2019-20

Kentucky

Assoc. Head Coach

22-8, 10-6 SEC

2018-19

Kentucky

Assoc. Head Coach

25-8, 11-5 SEC

2017-18

Kentucky

Assoc. Head Coach

15-17, 6-10 SEC

2016-17

Kentucky

Assoc. Head Coach

22-11, 11-5 SEC

2015-16

Tennessee

Assoc. Head Coach

22-14, 8-8 SEC

2014-15

Tennessee

Assistant Coach

30-6, 15-1 SEC

2013-14

Tennessee

Assistant Coach

29-6, 13-3 SEC

2012-13

Tennessee

Assistant Coach

27-8, 14-3 SEC

2011-12

Kentucky

Assoc. Head Coach

28-7, 13-3 SEC

2010-11

Kentucky

Assoc. Head Coach

25-9, 11-5 SEC

2009-10

Kentucky

Assistant Coach

28-8, 11-5 SEC

2008-09

Kentucky

Assistant Coach

16-16, 5-9 SEC

2007-08

Kansas

Assistant Coach

17-16, 4-12 Big 12

2006-07

Kansas

Assistant Coach

11-20, 4-12 Big 12

2005-06

Kansas

Assistant Coach

17-13, 5-11 Big 12

2004-05

Kansas

Assistant Coach

12-16, 5-11 Big 12

2003-04

WKU

Assistant Coach

20-14, 12-2 Sun Belt

2002-03

WKU

Assistant Coach

22-9, 12-2 Sun Belt

Elzy as Head Coach at Kentucky
49-40, 19-28 SEC
Read more