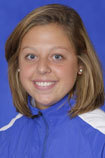 Taylor

Miller
class

Senior

High school

Daviess County
2007 NCAA Mideast Regional Participant – 5,000 Meters
2007 SEC Academic Honor Roll
2007 CoSIDA Academic All-District
2006 SEC Freshman Academic Honor Roll
2007-08 (Junior): Cross Country – Competed in all meets for the Wildcats scoring in all but one … Finished tenth overall at Old Timers Classic with a 5K time of 17:58.
2006-07 (Sophomore): Cross Country – Had a breakout sophomore campaign, competing in each of UK's six meets and leading the Wildcats four times … Best finish came at the Old Timers Classic where she was second overall with a personal-best 5K time of 17:37 … Led the Wildcats and finished fifth overall at the Cal Poly Invitational (18:12, 5K) … UK's No. 1 runner at the SEC Championships (24th overall, 21:09, 6K). Indoor – Ran the 10th fastest 5,000-meter time in school history with a mark of 17:25.67 … Also competed in the mile and the 3,000 meter. Outdoor – Ran the fifth-fastest 10,000-meter time in school history with a 35:51.78 … Qualified regionally in the 5,000 meter with the eighth-fastest time in school history – 16:50.30 … Named to the CoSIDAAcademic All-District team.
2005-06 (Freshman): Cross Country – Competed in two meets her freshman season … Finished 15th at the Woodford Trials with a time of 12:37 … Indoor – Did not compete … Outdoor – Earned a personal-best 4:54.30 in the 1,500 meters at the Seminole Invitational. High School: Three-time first-team all-state cross country honoree … Four-time city-county cross country and two-mile champion … Earned the KHSAA Sportsmanship Award for Track and Field as a junior … Four-time academic all-state performer.
Personal: Full name is Andrea Taylor Miller … Born May 6, 1987 … Parents are Jeff and Mary Miller … Father ran cross country and track for LSU while in college … Has one brother, Ryan (25) … Major is Secondary English Education.
Personal Bests: 1,600 Meters – 5:19; 5,000 Meters – 16:50; 10,000 Meters – 35:50
Read more