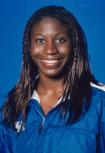 Simidele

Adeagbo
class

Senior

High school

Eastern
Two-Time All-American
School Record Holder – Triple Jump
2002: Outdoor ? Finished eighth at the NCAA Championships in the triple jump with a school-record jump of 42-11.00, earning her second All-America Certificate?Won the triple jump at both the Long Beach Classic and the Penn Relays?Finished seventh in the triple jump at the SEC Championships?Competed in the long jump at four meets, having her best showing at the SEC meet with a leap of 19-05.50. Indoor ? Had two first-place finishes in the triple jump, including her best performance of the year, a 42-01.50 showing at the Kentucky Invitational?Had three provisional qualifying jumps in the triple jump?Took sixth place at the SEC East meet with a jump of 19-02.00.
2001: Outdoor ? Had a career performance in the 100 meters at the Hurricane Invitational with her personal-best time of 11.96…Her 20-10.50 long jump at the Texas Relays was a career best. Indoor – Claimed first All-America honor with a fourth-place finish in the triple jump at the NCAA Championships with a jump of 43-04.50… Won five of seven meets in the triple jump and placed third at the SEC Indoors with a leap of 42-04.00… Won her first three long jump competitions to start the season, and her personal best of 20-03.50 earned her a provisional-qualifying spot for the NCAA … Claimed sixth place in the long jump at the SEC Championships.
2000: Outdoor – Best long jump of season came at the Miami Hurricane Classic with a jump of 18-09.75… Jumped 41-01.50 in the triple jump at the Sea Ray Relays to claim eighth place… At SEC Championships, leap of 40-07.75 earned her ninth place. Indoor – Finished sixth in the 200 meters at the SEC Quad Meet with a time of 25.44… Achieved best jumps at the Wildcat Speed meet by leaping 19-04.00 to take second in the long jump and 40-11.50 for first place in the triple jump… Also claimed first in the long jump at SEC Quad Meet.
High School: 1999 Kentucky Gatorade Track and Field Athlete of the Year… Prior to senior year, won five individual Class AAA state championships: long jump (1997 & 1998), 100 meters (1997 and 1998) and 200 meters (1997)… As a senior, was favored to win four more state titles, but an untimely hamstring injury in the 200 meter qualifying rounds kept her from participating in the finals… Before the injury, won her third consecutive long jump title for her sixth career championship.
Personal: Born July 29, 1981… Parents are Richmonda and Ayotunde Adeagbo… Sister Olubusola is also a member of the Wildcat track team… Majoring in journalism.
Personal Bests:
60 Meters: 7.70
100 Meters: 11.96
200 Meters: 25.31
Long Jump: 20-10.50B
Triple Jump: 43-04.50
Read more