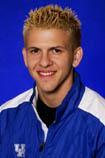 Ryan

DeLuca
class

Redshirt Junior

High school

Ward Mellville
2002-2003: Used red-shirt seasons for cross country, indoor and outdoor track.
High School: Was named an Indoor All-American in 2002 in the 800 meters…Was the 2002 Suffolk County Champion in the 800 and 1,600 meters and the 4 x 800-meter relay…Finished second at the New York State Championships in the 1,000-meter run…Holds school records in the 600, 800 and 1,000 meters, and the 4 x 400 and 4 x 800-meter relays.
Personal: Born April 2, 1984…Son of Bill and Debbie and Bill DeLuca…Major is kinesiology.
Personal Bests:
800 Meters: 1:52.83
1,600 Meters: 4:20.00
Read more