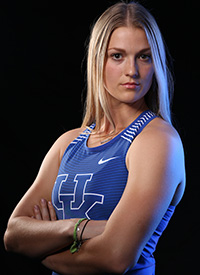 Olivia

Gruver
class

Freshman

Hometown

Reisterstown, Md.

High school

Franklin
PRs – Pole Vault: 15'3.75"/4.67m (No. 3 on absolute (indoor/outdoor) collegiate all-time list)
Two-Time NCAA Champion – 2017-2018 Outdoor Pole Vault
SEC Champion – 2018 Indoor Pole Vault
Two-Time NCAA Bronze Medalist – 201-2018  Indoor Pole Vault
SEC Bronze Medal – 2017 Indoor Pole Vault
Four-Time All-America (Pole Vault)
2018 The Bowerman Semifinalist
2017-18 (Junior)
Outdoor – NCAA Outdoor Pole Vault Champion for a second year in a row clearing an outdoor PR 14'11"/4.55m in a series that saw her miss her first two attempts at her opening height 4.15m, then clear 4.30 on first attempt, only to miss on first attempt at the next three heights only to clear the winning height on her first time … Placed fourth at the SEC Championships … Missed all of the outdoor season due to injury, opening up one week before the conference championships, winning the Kentucky Relays at a (low for her) height of 13'4.25"/4.07m.
Indoor – NCAA bronze medalist in the pole vault for the second year in a row …  Became the No. 2 indoor pole vaulter in collegiate history with a clearance at 16'3.75"/4.67m to win the SEC title in February … Won the McCravy, Clemson Invitational, Kentucky Invitational and Hoosier Open Pole Vault competitions.
2016-17 (Sophomore)
Outdoor – NCAA Outdoor Pole Vault Champion in a bit of an upset, clearing a PR 14'9″/4.50m to break her school record … Competed at her first USATF Championships in June in Sacramento … Placed second to 2012 Olympic Gold Medalist Jenn Suhr at the Texas Invitational … Helped UK to the jumps relay win by placing 16th at SEC Relays … Had the top sheet at NCAA East Prelims in Lexington to qualify for NCAAs
Indoor – NCAA Bronze Medalist in the pole vault with a clearance at 14'5.25″/4.40m … SEC Bronze Medalist with a then-PR 14'8.75″/4.49m
2015-16 (Freshman)
Outdoor – NCAA Championships qualifier where she placed 21st … Season best clearance at 14'1.25″/4.30m the school and freshman records.
Indoor – Scored her first SEC points, finishing eighth at the conference meet with a clearance at 13'6.25″/4.12m, the indoor UK freshman record
Prior to UK
An accomplished pole-vaulter, having cleared 13 feet, and won at multiple high-level stages. She won the 2014 Maryland State Title indoors. Gurver was notably the 2014 Penn Relays pole vault champion having cleared a PR 12'3.5". She also won the Baltimore County Championship in 2014.
Read more