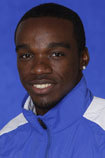 Mikel

Thomas
class

Senior

Previous School

Maryland - Eastern Shore

High school

Transit Tech
• 2008 Olympian (Trinidad and Tobago) – 110m Hurdles
• 2008 NCAA Outdoor Semifinalist – 110m Hurdles
• 2008 All-Mideast Regional Team – 110m Hurdles
• 2008 NCAA Indoor Semifinalist – 60m Hurdles
• Varsity Record Holder 60m Hurdles
• Varsity Record Holder 110m Hurdles
2008 (Junior): Outdoor – Completed his second-round heat of the 110 meter hurdles during the 2008 Summer Olympic Games competing for his native Trinidad and Tobago, crossing the line in 13.62 to place sixth in his heat … The second round mark improved upon his first-round time of 13.69 … In NCAA Championships men's 110 meter hurdles semis, finished fifth in his heat and tenth nationally with a time of 13.74 … Won the men's 110m hurdles title at the Sagicor/NAAA National Senior Open Championships in Port of Spain, Trinidad, running 13.96 to clinch the gold in the event … Won silver in the 400m hurdles crossing the finish in 51.40 at the Senior Opens Championships … At Central American and Caribbean (CAC) Championships held in Cali, Colombia, finished seventh in the 110m hurdles posting a time of 13.84 … Set the UK 110m hurdles varsity record four times during the outdoor season …Posted current record mark of 13.57 (+3.3w) at the Mideast Regional to automatically qualify for NCAAs … Finished 11th overall in the Mideast Regional 400m hurdle prelims with a time of 51.97 … Placed sixth at SEC Championships with 13.70 mark in 110m hurdles. Indoor – Finished 15th overall at NCAA Championships with time of 7.94 in 60m hurdles … Broke the UK 60m hurdles varsity record multiple times, finally posting a top mark of 7.75 at the Iowa State Qualifier.
2007 (Sophomore): Indoor – Set the school record a second time in the 60 meter hurdle finals of New Balance Invitational at 8.03 to finish ninth … Broke the school record in the preliminaries of the 60 meter hurdles at New balance Invitational with a mark of 8.11. Outdoor – Captured the men's 110 high-hurdle national championship in his home country of Trinidad and Tobago with a personal-best time of 14.14, which ranks as the third-best time in that event in school history … Finished first in the 400-hurdle event but was disqualified due to a violation … Member of native country's 4x100m relay team that finished fourth at junior Pan American Games with a time of 39.0 … Member of Mideast Regional men's 4×100 relay team that recorded a season-best time of 40.33 at the SEC Championships … Mideast Regional participant in the men's 400 hurdles … Notched the seventh-best time in school history at the Sea Ray Relays in mid-April with a time of 52.51.
2006 (Freshman – at UM-Eastern Shore): Attended the University of Maryland-Eastern Shore in Princess Anne, Md. … Part of the 4×400 meter relay team that finished third at the indoor Mid-Eastern Athletic Conference meet. High School: A five-time All-America and four-time state finalist … Second in the 400 meter at the AAU Junior Olympics … The 2004 SMR champion.
Personal: Full name is Mikel Kevon Thomas … Born Nov. 23, 1987 … Parents are Hayden Thomas and Gail Barton … Has three sisters, Melissa (27), Makisha (15) and Tamieka (7) … A native of Maloney, Trinidad and Tobago … Major is exercise science.
Personal Bests: 60 meters – 6.84; 60m hurdles – 7.75; 110m hurdles – 13.57; 400 meters – 48.2; 400m hurdles – 51.40.
Read more