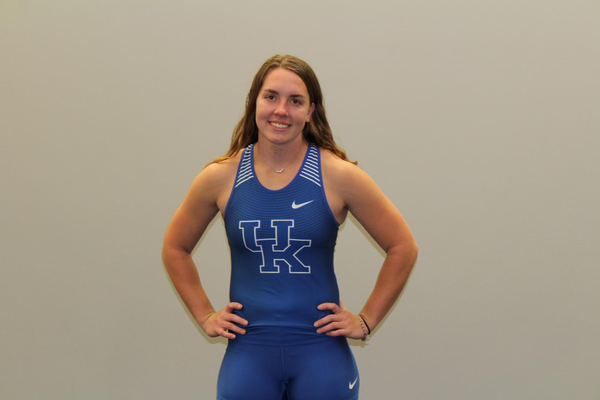 Micaela

Hazlewood
class

Senior

Hometown

Linton, Indiana

Previous School

Purdue

High school

Linton-Stockton
2019 (Senior)
Indoor
SEC Silver Medalist in the shot put with a PB 54'2″/16.51m in her last collegiate SP competition
Placed 12th in the SEC weight throw
11th in the weight throw at the Clemson Tiger Paw Invite with a aseason best 63'1.5″/19.24m
Moved to No. 2 on the UK all-time indoor shot put list, and No. 5 on the weight throw list

2017 (REDSHIRT/JUNIOR)
Second team All-American in the discus after finishing 13th at the NCAA Outdoor Championships
Scored five points at the Big Ten Championships in the discus with a fourth place finish and two more with a seventh place finish in the hammer
Helped the women's team with the Big Ten Outdoor Championship
Broke the school record in the discus with a throw of 56.75m (186-2) to win the Louisville Invite
Had the fourth best hammer throw in program history with a toss of 60.17m (197-5) to win the Rankin/Poehlein Invite
Had the sixth best shot put mark in school history with a mark of 15.09m (49-6.25) to finish as the top collegian at the Rankin/Poehlein Invite
Regional qualifier in the hammer and discus
Finished fourth in the discus at the Drake Relays
Competed in nine outdoor events after sitting out the indoor season with an injury
2016 (SOPHOMORE)
Second team All-American in the discus, after finishing 13th at the NCAA Championships
Set the school record in the discus by more than seven feet at the NCAA East Prelims after throwing 55.77m (183-0) to finish third and advance to the NCAA Championships
Finished fourth in the discus at the Big Ten Championships after throwing 53.26m (174-9), then a personal best.
Finished ninth in the hammer throw at the Big Ten Championships with a PR throw of 59.96m (196-9). That mark ranks third in school history
Finished runner-up in the discus at the Drake Relays
Finished 20th in the shot put at the indoor Big Ten Championships
Had a weight throw PR of 18.53m (60-9.50) at the Meyo Invite to finish eighth
Had a shot put PR of 15.41m (50-6.75) to finish fifth at the Conference Clash / Power 5 Invite. That mark ranks fifth in school history
Won the discus throw at the Bobcat Invitational
Won the hammer throw at the Rankin/Poehlein Invite
2015 (FRESHMAN): Earned USTFCCCA Honorable Mention honors after placing 22nd at the NCAA Outdoor Championships in the discus … threw the fifth-best mark in Purdue history with a distance of 50.95m (167-2) at the NCAA East Preliminary Rounds where she finished 11th to advance to the NCAA Championships … had a hammer throw PR of 56.26m (184-7) at the Big Ten Championships where she finished 12th … mark was good enough to qualify for the NCAA East Prelims, though she did not compete in the event … had an outdoor PR of 14.20m (46-7.25) in the shot put at Big Ten Championships where she finished 16th … threw a weight throw PR of 17.78m (58-4) at the Razorback Invite where she finished third … finished 20th in the weight throw at her inaugural Big Ten Championships.
High School: Finished third at state championships with mark of 142'2 in the discus … PR of 153'11 … ranked 23rd in the country her junior year in discus … has a PR of 42four-year mascot letterwinner … three-year letterwinner for softball … four-year letterwinner for track … four-year All-South Western Indiana Athletic Conference … three-year All-state … as a senior was the IATCCC 1A-3A Indoor State Champion, was the Wabash Valley All Sports Team.
Personal: Micaela Nicole Hazlewood was born on June 18, 1995, in Sullivan, Indiana … is the daughter of Robert and Janet Hazlewood … has a brother, Dylan … plans to major in Movement and Sports Science and enjoys camping, ATV riding, painting, and reading.
Read more