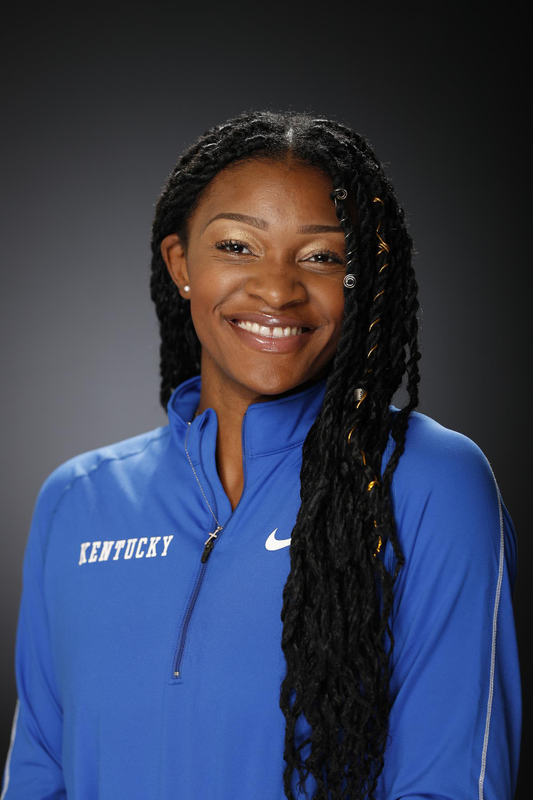 Marie-Josée

Ebwea-Bile Excel
position

Jumps

class

Senior

Hometown

Paris, France/New York City

High school

Cardozo
Pronunciation – Mah-Ree Joh-Say Ehb-Way-Ugh Beel Ex-Cel
 
PRs: LJ: 21'0.75"/6.42m | TJ: 45'11.25"/14.00M
Notables
– NCAA Silver Medalist – 2017 Outdoor Triple Jump
– Two-Time NCAA Bronze Medalist – 2018 Outdoor Triple Jump, 2019 Indoor Triple Jump
– SEC Silver Medalist – 2019 Indoor Triple Jump
– SEC Bronze Medalist – 2018 Indoor and Outdoor Triple Jump
– Four-time First Team All-America – Triple Jump (2017 outdoor, 2018 indoor and outdoor, 2019 indoor)
– School record holder – Triple Jump
– UK Freshman record holder – Outdoor Triple Jump
– Raised in France, but finished high school in New York City's Cordozo
– SEC First-Year Honor Roll (2016-17)
2018-19 (Senior)
Indoor
NCAA Bronze Medal in the triple jump
SEC Silver medalist in the triple jump
NCAA Championships qualifier as the No. 2 seed
Married in Paris in December
Opened the season with an 45'2.5"/13.78m mark, which continues to lead the nation and earned her Athlete of the Week honors in early Dec. 2018
2018 (Junior)
Outdoor
NCAA Bronze medalist jumping 44'9.75"/13.66m in a hail storm
SEC bronze medalist in the triple jump reaching a mark of 45'7.75"/13.91m
Joined the triple jump 14-meter club at the National Relays leaping to a PR 45.11.25"/14.00m
SEC Field Athlete of the Week March 20 after winning the TJ to open the outdoor season at the UCF Black and Gold Challenge with a UK record-setting triple jump of 44'3.25"/13.49m.
Indoor
Placed sixth in the triple jump, and 10th in the long jump at NCAA Championships
First Team All-America in the triple jump
Took bronze in the triple jump at SECs, and scored a point in the long jump
Won the long jump and triple jump at the McCravy Memorial
Won the triple jump at Hoosier Open in December
Won the long jump at Kentucky Invitational.

2017 (Sophomore)
Outdoor
NCAA Silver Medalist with a windy 44'11″/13.69m (+2.6) to score a huge eight points for UK en route to a fourth-place team finish
Jumped a wind-legal collegiate best 43'11/25″/13.39m to qualify for NCAAs at East Prelims in Lexington
Represented France at the European U23 Championships in Poland
Fourth at the SEC Championships.
Indoor
NCAA qualifier in the triple jump, having reached a school-record 43'11.25″/13.39m at the SEC Championships to place sixth.

2016 (Freshman)
Outdoor
NCAA East Preliminary Championships qualifier in the long jump and triple jump
Placed 12th in the triple jump at the SEC Championships
Jumped a season-best 20'1.5″/6.13m in the long jump to place sixth at the Virginia Challenge
Season-best triple jump 42'8″/13.0m came in fourth-place performance at Florida Relays … Won the triple jump at the Baldy Castillo Invitational and Spec Towns Invitational, jumping a wind-aided 42'9.75″/13.05m at the latter meet at UGA in April.
Indoor
Arrived on campus in January
Placed eighth in the triple jump at SECs to score the first point of her career
Missed the SEC long jump final by one spot, placing 10th overall

Prior to UK
Broke the triple jump record for a New York State prep athlete at the 2015 Penn Relays with a mark of 42'1.25″/12.83m … Jumped 43'8″/13.30m at the 2013 World Youth Games in Donetsk, Ukraine competing for France … Long jump PR: 20'3.75″/6.19m came in Valencia, Spain.
Personal
Originally from Paris, France, but went to high school in New York City at famed Benjamin Cardozo in Bayside, Queens … Speaks English and French … Majoring in Merchandising, Apparel and Textiles, aspires to be a designer and already has designed some garments
Read more