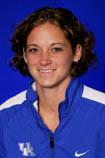 Kristen

Mowrey
class

Senior

High school

Van Buren
School Record Holder – Heptathlon
2002: Outdoor – Set the school record in the heptathlon at the Sea Ray Relays with a score of 4,950…Took second in the event at the SEC Championships… Finished third at the Cardinal Open in the 100-meter hurdles with a time of 14.68…Enjoyed a first-place showing in the high jump at the Cardinal Open with a personal-best leap of 5-07.00. Indoor – Finished seventh at the SEC Championships in the pentathlon with a total of 3,511 points…Also took 12th in the high jump at the league showdown with a leap of 5-04.50.
2001: Outdoor – Took eighth place in the 400-meter intermediate hurdles at the SEC Five-Way…Had a then career-best mark of 4,563 points in the heptathlon at the Sea Ray Relays, finishing sixth. Indoor – Finished fourth in the pentathlon at the Air Force Invitational with a personal-best mark of 3,450.
High School: Ohio Division III State Champion as a senior in the 100-meter and 300-meter hurdles, setting state records in both…Was named Academic All-Ohio and All-Ohio in track… Also played volleyball and basketball.
Personal: Born Dec. 22, 1981… Parents are Linda and Doug Mowrey… Majoring in finance.
Personal Bests:
100-Meter Hurdles: 14.29
High Jump: 5-07.00
Heptathlon: 4,950
Read more