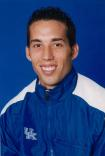 Kevin

Panke
class

Senior

High school

McIntosh
2002: Outdoor ? Ran in the 800, 1,500 and 3,000 meters during outdoor season, finishing third in the 3,000 meters at the Gatorade Classic?Had a personal-best time of 3:55.70 in the 1,500 meters at the Stanford Invitational. Indoor ? Took second place in the mile race at the Rod McCravy Memorial with a career-best time of 4:12.57?Took third place in the two-mile run at the Wildcat Speed Meet and seventh in the 3,000 meters at the SEC East meet. Cross Country: Competed in every meet for the Wildcats and posted two top-10 finishes.
2001: Outdoor ? Placed fifth at the SEC Quad meet at Georgia in the 1,500 meters? Ran a then-personal best 3:57.05 for the 1,500 meters in his heat at the Sea Ray Relays? Finished first at the Cardinal Invitational in the 1,500-meter run with a personal best time of 3:55.87. Indoor ? Improved his mile time during the season, running a season-best 4:19.05 at the SEC Championships. Cross Country ? Helped lead UK to a first-place finish at the Furman Invitational.
High School: Runner-up in the 1,600 meters at the 1999 Georgia Class 4A State Championships, finishing with a time of 4:17.82… Also ran a personal-best 1:55.89 in the 800 meters at the 1999 State meet… Earned All-State honors in cross country all four years… School record holder in the distance medley, 4×400, 4×800, 800 meters and 1,600 meters.
Personal: Born Sept. 25, 1980… Parents are Janet and Carl Panke… Major is art studio.
Personal Bests:
800 Meters: 1:55.89
1,500 Meters: 3:55.70
Mile: 4:12.57
Read more