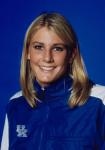 Jackie

Wagner
class

Sophomore

High school

St. Mary
Fall 2002: Cross Country ? Helped Kentucky to a second-place finish at the SEC Championships… Ran a season-best 23:18 for the 6k at the NCAA Southeast Regional.
High School: Earned 13 Kentucky State titles?Is only the second person in Kentucky high school track to win the triple crown of distance running, doing so by taking the 800-meter, 1,600-meter and 3,200-meter titles at the 2001 outdoor championship?Also won the state cross country title three times in high school?Won three Mason-Dixon Games titles?Also played basketball for St. Mary.
Personal: Born June 1, 1984?Daughter of Becky Harris?Major is undeclared.
Personal Bests:
1,600 Meters: 5:08.95
3,200 Meters: 11:11.40
Read more