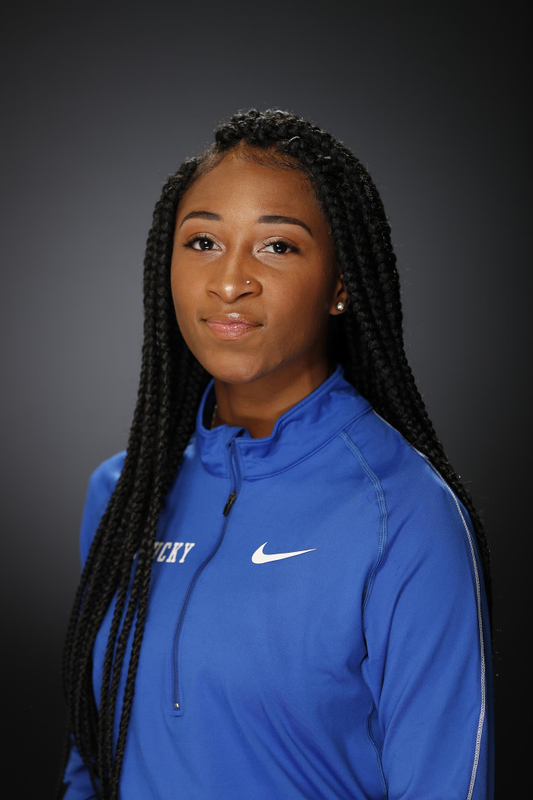 Faith

Ross
class

Senior

Hometown

Chesapeake, VA

High school

Western Branch
                             ALL                             Indoor Track & Field                             Outdoor Track & Field                             Cross Country                         
SEC Champion (2018 4×4)
Three-Time First Team All-America (2018 indoor and outdoor 4×4, 2019 Indoor 4×4)
SEC First-Year Honor Roll (2016-17)
2018-19 (Junior)
Indoor
Ran the leadoff leg on UK'x 4x400m relay, which finished eighth at NCAA Championships to claim eighth place
Second-Team All-America in the 60m hurdles after qualifying for the NCAA Championships semifinals
SEC scorer in three events – the 60m hurdles (fifth), 4x400m relay (sixth) and DMR (seventh)
Moved to No. 3 on the UK all-time indoor hurdles list with a PB 8.06 at SECs, which also qualified her for the NCAA Indoor Championships
2017-18 (Sophomore)
Outdoor – Ran the first leg on UK's SEC Champion 4x400m relay, which ran 3:25.99, the school record and NCAA all-time No. 11 time … First Team All-America on UK's NCAA fourth-place 4×4 … NCAA East Prelims quarterfinalist in the 400m hurdles after running a PB 57.36 in the first round
Indoor – First Team All-America on UK's NCAA fifth-place 4×4, running an indoor school record 3:30.08 … SEC bronze medalist on the 4×4.
2016-17 (Freshman)
Outdoor – Placed 13th at the SEC Championships in the 400m hurdles, which was her second meet of the year
Indoor – 60H season best was 8.31 to finish eighth at the Tyson Invitational against a stellar field … Just missed the SEC final, finishing ninth in the 60H prelims … Ran a strong leg on UK's fifth-place 4x400m relay at the SEC Championships … Ran a eighth-place 400m time of 55.67 at the Kentucky Invitational
Prior to UK
Three-time State Champion … A special athlete across multiple events, excelling in sprints, but even finishing in the top 15 at the Virginia State Cross Country Meet in 2015 … Virginia State Champion in the 100m hurdles in 2016 … Virginia Silver Medalist in the 100H in 2015, and Bronze Medalist at the same meet in 2014 as a sophomore … Virginia State Champion in the 300m hurdles in 2016 and 2014 (won conference 300h in 2015) …. USATF World Youth Trials Bronze Medalist in 2015 with a PR 58.07 … Virginia State Champion in the indoor 500m in 2015, and silver medalist in the event at the indoor state meet in 2016 … A top-five finisher at the Virginia State Meet in the high jump three times (2014-2016).
Personal
Major is Political Science
Read more