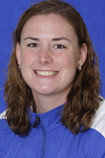 Emilee

Strot
class

Senior

Previous School

California

High school

Gresham
• 2008 NCAA Mideast Regional Finalist – Discus
• 2008 All-Mideast Regional Team – Discus
• 2008 NCAA Mideast Regional Semifinalist – Shot Put
• 2008 All-SEC Outdoor Second Team – Discus
2008 (Junior): Outdoor – At NCAA Championships, finished 22nd in the nation in the discus after a qualifying throw of 155-2 in gusty conditions … Finished 13th overall with a shot put throw of 49-5.75 at Mideast Regional … Threw the discus 167-10 to finish seventh at the Mideast Regional … At SEC Championships, threw 173-2 in the discus to finish second and earn a spot on the All-SEC Second Team … Posted sixth-place finish in shot put with throw of 47-3.50 at SECs … In javelin debut placed ninth in the league with a distance of 126-10 … Climbed UK record list with a shot put throw of 49-11.75 at Jesse Owens Classic to place fifth all-time … Won the discus at the Indiana Invitational with a throw of 174-7, her best as a Wildcat and second-best all-time in the UK annals. Indoor –Only competed in shot put … Finished sixth in the shot put at the SEC Championships with a throw of 49-7.25 that enters the UK record books in fifth all-time.
Previous College (University of California): Varsity record in javelin (152-11) and freshman record in discus (177-10) at California … Cal field event athlete of the year as a freshman … As red-shirt sophomore placed second at Pac-10 meet in the discus and scored in both the shot put and javelin … During freshman season finished third in discus at Pac-10 meet and scored in both the shot put and javelin … Coached by Jennifer Joyce.
High School: Oregon state record holder in discus … Three-time Oregon state champion in discus as well as shot put … State qualifier junior and senior years in javelin. Coached by Gary Stautz … Also lettered four years in basketball, team captain senior year … Member of school newspaper and photography staff.
Personal: Full name is Emilee Ann Strot … Born May 12, 1986 in Portland, Ore. … Parents are Guy and Denise … Has two brothers, Bryant (28) and Erik (26), sister Kelsey (19), sister-in-law Jeanette (27) and niece Faith (3) … Major is Topical Studies/Film Studies.
Personal Bests: Discus – 182-5; Shot Put – 49-11.75; Javelin – 152-11.
Read more