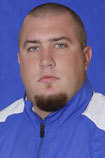 Chase

Madison
class

Senior

Previous School

Iowa State

High school

Newton
• 2008 NCAA Mideast Regional Semifinalist – Discus
• 2008 All-SEC Outdoor First Team - Discus
2008 (Junior): Outdoor – Crowned SEC Champion in discus and named to the All-SEC First Team after winning the men's discus competition with a throw of 198-1 … Also at the league meet, threw a personal-best shot put of 59-2.75 to place sixth and rank ninth all-time at UK … Threw the discus an amazing a personal-best distance of 206-2, marking just the second time in school history a Wildcat has thrown the discus over the 200-foot mark … The mark ranks only behind former two-time Olympian Mike Buncic's 1986 mark of 217-4 … Named the SEC Track and Field Male Field Athlete of the Week after earning two regional-qualifying marks in shot put (58-7.50) and discus (202-9) at the Jesse Owens Classic. Indoor – Did not compete.
2007: Red-shirted seasons.
2006 (Previous College: Iowa State): Named to the 2006 NCAA Division I All-America list while competing at Iowa State University in discus … Took ninth in discus at the NCAA Championships with a throw of 181-6 … Recorded a personal record in the discus at the ESU Spring Twilight with his first-place throw of 195-6 earning him an NCAA bid … Placed third in discus at Big 12 Championships … Did not compete in shot put at the Midwest Regional due to injury … Took first at the ISU Open in the weight throw with a personal record of 60-6 1/2.
2005 (Previous College): Qualified for the NCAA Midwest Regional in the discus and shot put … Threw regional qualifying and season-best mark in discus at Tom Botts Invitational (175-11) … Placed fifth in the discus at the Big 12 Championships (175-7) … Had a regional qualifying and outdoor season-best shot put toss of 55-9 3/4 at the Big 12 Championships … redshirted indoor season.
High School: Ranked fifth nationally among high school All-Americans nationally by Track and Field News … Ranked second on Iowa prep all-time list with a throw of 66 feet in the shot put and second all-time in the discus with an effort of 206-9 … Won Iowa state Class 4-A titles in both events (63-0, 190-11) in 2004 … Named most outstanding boys high school performer at the 2004 Drake Relays after setting a meet record in the discus with a 199-1 mark that broke the existing mark by more than 15 feet and won the shot put with a toss of 60-7 … Named Gatorade Athlete of the Year for the state of Iowa … Adidas prep champion in the shot put (64 1/2) and finished fifth in the discus (185-0) … Earned second-team All-State honors in football.
Personal: Born Sept. 13, 1985 … Parents are Wayne and Linda … Has one sister, Sarah (20) … Major is kinesiology.
Personal Bests: Weight Throw – 60-6.5; Discus – 206-2; Shot Put 59-2.75.
Read more