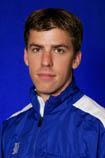 Ben

Brewster
class

Senior

High school

Somerset
2002: Outdoor – Had a season-best time of 55:01 in the 400-meter hurdles at the Cardinal Open…Ran a personal-best 49.82 in his heat of the 400 meters at the SEC Championships. Indoor – Ran a then-personal best performance of 50.33 in the 400 meter preliminaries at the SEC Championship.
High School: Was the Kentucky State Champion in the 300-meter hurdles in 2000… Finished fifth in the 110-meter hurdles in 2000… Is the school record holder in the 300-meter hurdles… Also competed in the pole vault and cross country in high school.
Personal: Born July 24, 1981… Parents are Kala and Scott Brewster…Majoring in biology.
Personal Bests:
400-Meter Hurdles: 55.01
400 Meters: 49.82
Read more