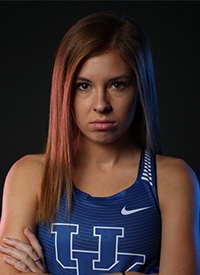 Avery

Bussjager
class

Junior

Hometown

Marietta, Ga.

High school

Walton
Personal bests – 3k: 9:51.34 | 5k: 17:01.99 | 10k: 37:10.35
2017 SEC Spring Honor Roll
2016 SEC Fall Honor Roll
2015-16 SEC Freshman Honor Roll

2017-18 (Junior)
Outdoor – Competed at six meets … UK's No. 2 finisher at NCAA Southeast Regional, 50th overall in 21:48.50 … UK's No. 2 finisher at SEC Championships, 23rd overall in 21:10.60 … 6k season best was 21:02.60 at Wisconsin Invitational … 5k season best was 17:22.90 at Greater Louisville Classic
2016-17  (Sophomore)
Outdoor – Ran three 5ks with a season best 17:18.57 at the Kentucky Relays to place third … Took 22nd place at the SEC 10k in 37:10.35.
Indoor – Ran a 5k PR 17:01.99 to place ninth at the Iowa State Classi
Cross Country – SEC Honor Roll … 40th at NCAA Southeast Regionals, UK's No. 3 finisher in 21:38.60, helping UK finish third overall … 60th at SECs …Placed fifth at the Kentucky Twilight … Placed eighth at the Kentucky the Kentucky Invitational.
2015-16 (Freshman)
Indoor – Ran a 3k season-best 9:53.71, placing fourth at the Tyson Invitational … Competed at four meets.
Cross Country – Finished 79th, running 22:44.20 at NCAA Southeast Regionals … Placed 94th at the SEC Championships with a time of 22:06.20 … 6k best of 22:03.60 came at Pre-Nationals in Louisville, Kentucky … Placed 24th at the Bluegrass Invitational and 16th at the Kentucky Twilight.
Prior to UK
A decorated competitor as a prep, she was named 2013 Marietta Daily Journal Runner of the Year. She comes to UK as a two-time Georgia State Champion, having won the title in cross country in 2013, and in the 3,200m in 2014. She recently finished 14th at the Footlocker South Region Cross Country Championships. Bussjager owns a 3,200m personal best of 10:46.93 and a 5k best of 17:41.00.
Personal
Majors in Biology
Read more