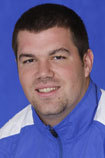 Andy

Fryman
class

Senior

High school

Mason County
Freshman Record Holder – DiscusSEC Outdoor Champion – Shot PutMideast Region Champion – Shot Put
2006: Indoor – Redshirted … Outdoor – Claimed both the SEC and Mideast Region shot-put titles … Posted personal bests and regional-qualifying marks in the shot put (63-4.25, fourth all-time UK), discus (182-8, fourth all-time) and hammer throw (195-0, second all-time) … Placed fifth in the hammer throw and sixth in the discus at SEC meet … Finished SEC meet with 17 team points, which was second to teammate John Richardson (18) … Made a second consecutive NCAA Championships appearance in the shot put … Competed at the USA Track and Field Championships … Won the shot put (59-4) and discus (179-0) titles at the Seminole Invitational.
2005: Indoor – Placed fifth at the SEC Indoor Championships with a mark of 58-10.25, good for sixth all-time indoor at UK … Posted a personal best mark of 58-1.75 in the weight throw at the Tyson Invite … Outdoor – NCAA Qualifier who placed sixth at Mideast Regionals … Versatile thrower who competed in the shot put, discus and hammer throw for the Cats … Posted the fourth-best mark in UK history in the hammer throw (180-1) at the SEC/Big Challenge (fifth-place) … Reached the finals at the SEC Championships with a personal best throw of 60-1.75 in the shot put, good for fifth all-time at UK … Was UK's top discus thrower in 2005 with a mark of 170-7 … Placed sixth in the shot put at the SEC/Big Ten Challenge.
2004: Indoor – In his freshman debut captured sixth place at the Kentucky Invitational with a weight throw of 57-4.25 … Finished in the top-20 at the Iowa State Classic in the shot put with a throw of 53-7.75 … Outdoor – Won the Louisville Invitational with a toss of 58-7 in the shot put… At the SEC Championships finished seventh… Placed eighth at the Southeast Regional meet … Finished third in the shot put at the U.S. Junior National Championships … Was third at Texas Arlington hammer throw with a toss of 173-3 … Placed second in the hammer throw at the Florida State Relays with a throw of 169-4, enough to land fifth on the Kentucky top throws list… Placed third in the discus at the FSU meet … Finished third at LSU, setting a UK freshman record with a toss of 175-1.
High School: State champion in both the discus and shot put … Also set state records in both events … Won the Nike Indoor High School title in the indoor and outdoor shot put, as well as the outdoor title in the discus … Featured in Sports Illustrated's "Faces in the Crowd" section… Named Track and Field News All-American in shot put and discus… First-team all-state selection in football.
Personal: Full name is Joshua Andrew Fryman … Born Feb. 3, 1985 … Parents are Donna and James Fryman … Has two brothers, Donnie (35) and David (26) … Majoring in physical therapy. Personal Bests:
Personal Bests:
Shot Put – 63-4.25; Discus – 182-8; Hammer Throw – 195-0; Weight Throw – 58-1.75
Read more