UK Athletics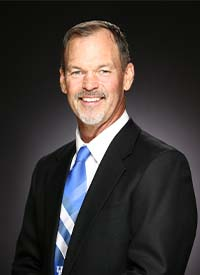 Kris Grimes joined the Kentucky Track & Field program as an assistant coach working with jumpers and multi-event athletes on Head Coach Lonnie Greene's staff in Summer 2018.
Grimes has earned regional coaching accolades seven times and was named USTFCCCA National Men's Assistant Coach of the Year in 2016. Student-athletes that he coached have earned 73 All-American honors during his career.
Grimes coached two student-athletes with four school records at UK, Ellen Ekholm (indoor and outdoor high jump) and Matthew Peare (indoor and outdoor pole vault). Ekholm broke the indoor high jump record five times in the 2019-20 season while Peare broke the indoor pole vault record four times in the 2019-20 season.
Athletes that Grimes coached have competed in the past four Olympic Games. In the 2016 Rio Olympics, Lindon Victor (decathlon) and Latario Collie-Minns (triple jump) made their home country's respective teams. Maggie Malone, who Grimes coached at Nebraska (3rd in 2013 Big Ten Javelin), made Team USA in the javelin.
In the 2019-20 indoor season, Grimes' student-athletes won two SEC Championships (Ekholm and Peare) while Rahman Minor earned a bronze medal in the men's high jump. Ekholm and Peare both qualified for the 2020 NCAA Indoor Championships, which were canceled due to the COVID-19 outbreak.
Ekholm held the No.1 high jump mark in the NCAA at the end of the 2019-20 season.
Grimes wasted no time helping Wildcats achieve success as he was named USTFCCCA Southeast Region Women's Assistant Coach of the Year for the indoor season in which Marie-Josee Ebwea-Bile Excel took SEC bronze in the triple jump and Ellen Ekholm claimed SEC silver in the high jump. Both of them set UK records in their events that season. Ebwea-Bile Excel went on to claim NCAA bronze in the triple jump.
At the 2019 SEC Indoor Championships, Matt Peare bettered his previous pole vault PB by 4.5 inches, clearing 17'6.25″/5.34m to place fourth and score five points.
"We're excited to welcome Coach Grimes into our Kentucky family," Greene said upon announcing Grimes' hiring. "He's another proven coach who checks all the boxes. He's a coach that has a proven track record of developing world-class athletes, he's done it at the highest level in our league and he's committed to educating great athletes as competitors, but also as quality students and people."
Grimes recently served on the Texas A&M coaching staff from 2013-2016.
With a nearly 30-year coaching career, Grimes previously was an assistant coach at the University of Nebraska.
"I'm grateful to have this opportunity to join Coach Greene's staff," Grimes said. "Having worked in this conference I've always admired the University of Kentucky, from competing at meets on campus to just seeing the pride that Wildcat athletes and fans take in wearing the UK colors. We're so looking forward to getting started."
While with the Aggie program Grimes earned national and regional coaching honors. In 2016 he was selected as the National Men's Assistant Coach of the Year and in 2014 he was named the South Central region Men's Assistant Coach of the Year.
In 2016 Grimes served as an assistant coach for Grenada during the Olympic Games held in Rio de Janeiro, Brazil. Two athletes Grimes coached at Texas A&M competed in the Rio Olympics, Lindon Victor of Grenada (decathlon) and Latario Collie of the Bahamas (triple jump).
While at Texas A&M, athletes coached by Grimes tied or broke more than 16 school records.
The list of school records included Jena Hemann – pentathlon (4,193), heptathlon (6,022); Annie Kunz – pentathlon (4,363), heptathlon (6,038); Lindon Victor – heptathlon (5,776), decathlon (8,446); Audie Wyatt – pole vault (indoor 18-1, outdoor 18-6 ½); Chase Wolfle – pole vault (indoor 18'0.5"/5.49m outdoor 18'6.5"/5.65m) and Latario Collie – triple jump 56'4.5"/17.18m.
Victor won the NCAA Championship in the decathlon in 2016 and 2017, setting the collegiate decathlon record (8,539 ). Victor also won the Southeastern Conference Championship in the decathlon those years.
Collie also claimed a NCAA Championship title in the triple jump in 2016 with a winning mark of 55'8.25"/16.97m. In 2015, he bettered the SEC Outdoor Championship record in the triple jump with a leap of 56'4.5"/17.18m and then finished second in the NCAA Championship.
Grimes' athletes earned more than 35 All-America honors earned by 14 athletes from the event areas during his tenure at Texas A&M. Currently, the group attained 16 first-team All-America accolades from eight athletes as scorers in the NCAA Championships. In addition, the event group has produced 12 second-team All-America honors and five honorable mention.
Grimes coached at Nebraska for eight seasons as the Cornhuskers combined events and pole vault coach. He hit his stride at NU over the five seasons by sending 27 athletes to the NCAA Championships and coaching athletes to two Big Ten titles, 13 Big 12 crowns and 15 All-America honors. Overall in those eight years, Grimes coached athletes to one national title, 23 All-America honors and 21 conference titles.
Grimes coached two athletes to the NCAA Outdoor Championships as Teran Walford represented the Huskers in the decathlon and Anne Martin competed for NU in the heptathlon. Both earned honorable-mention All-America accolades, while Martin was honored with the NCAA Elite 89 Award for being the female athlete at the outdoor championships with the highest GPA. Grimes also led both Walford and Martin to runner-up finishes at the 2013 Big Ten Outdoor Championships in the men's decathlon and women's heptathlon, respectively. Both athletes recorded personal-best totals during the 2013 season. He also helped coach freshman Maggie Malone to a stellar outdoor season competing in the javelin. She finished third in the event at the Big Ten Championships and went on to notch a 10-place finish at the national meet, earning second-team All-America honors.
Under Grimes' leadership in 2012, Bjorn Barrefors earned two first-team All-America honors, the 2012 Big Ten Men's Decathlon title and broke the Nebraska school record for the decathlon with 7,897 points at the Big Ten Conference Championships. Barrefors' also finished second in the heptathlon at the 2012 Big Ten Indoor Championships. He continued to lead Nebraska academically as he earned CoSIDA Academic All-America honors for a fourth consecutive year
In eight years at Nebraska, athletes that Grimes coached earned 14 Academic All-America awards and two Cornhuskers recorded the highest GPA among athletes competing at the NCAA Championships, one claiming the Elite 88 award and another earning the Elite 89 award.
In addition to Barrefors' success in 2012, Grimes also guided the Husker pole vaulters to another successful season. Breanna Bussel earned the 2012 Big Ten Indoor Championship pole vault title, while moving on to earn honorable-mention All-America accolades at the 2012 NCAA Indoor Championships. Nate Polacek finished third in the pole vault at the indoor conference championships, moving on to garner second-team All-America honors at the NCAA Indoor Championships.
Former Husker combined eventer Chantae McMillan left her mark on the international stage in 2012, competing for the United States at the 2012 London Olympics. McMillan, who was a five-time All-American and school record holder at 6,003 points  at Nebraska.
Grimes led NU's combined eventers to another stellar season in 2011, as three athletes garnered four All-America accolades. Chantae McMillan once again swept the women's events at the conference level, earning her second-straight pentathlon and heptathlon titles. Her win at the conference outdoor meet extended the Huskers' streak to seven years. She went on to tally her fourth All-America award by finishing second in the pentathlon at the 2011 NCAA Indoor Championships. Natalie Willer was also a standout for the Huskers in 2011, as she became a three-time All-American pole vaulter, with solid performances at both the NCAA Indoor and Outdoor Championships. Willer also swept the Big 12 women's pole vault titles, notching top finishes during both the indoor and outdoor championships. In addition, Grimes coached Nate Polacek to his first All-America honor with a fourth-place finish in the pole vault at the NCAA Indoor Championships.
The Huskers combined eventers showed their dominance at the conference meet in 2010, as McMillan swept the women's events. McMillan became the second straight Husker to sweep the pentathlon and heptathlon, after Megan Wheatley achieved the feat in 2009. McMillan also extended the Huskers' winning streak in the heptathlon to six years at the conference outdoor meet. At the NCAA Outdoor Championships, McMillan earned her third career All-America honor with her first career award in the heptathlon, while Willer became an All-America pole vaulter for the first time in her career.
The 2009 season was arguably Grimes' most successful year at NU, as six of his athletes qualified in 11 events at the NCAA Championships, including four athletes who qualified for both the indoor and outdoor national meets.
Grimes' squads were well represented at the 2009 NCAA Indoor Championships, as four of the five athletes he sent to the meet came home with five All-America honors, including McMillan, who earned All-America honors in the pentathlon and long jump. McMillan was joined by Wheatley (pentathlon), Seth Burney (pole vault) and Barrefors (decathlon). Just a freshman, Barrefors had a breakout year by setting the school record in the heptathlon at the national meet with a third-place score of 5,795. For his success Grimes was named Midwest Region Women's Assistant Coach of the Year by the USTFCCCA.
Outdoors, Grimes' athletes earned two more All-America honors with Burney in the pole vault and Barrefors in the decathlon.
At the conference level, the Huskers continued to dominate the women's heptathlon with a Husker capturing the league crown at the Big 12 Outdoor Championships. Wheatley, who also won the indoor pentathlon crown, won the title for the second straight year after Ashley Selig won titles in 2005 and 2007, with Sara Jane Baker also winning in 2006.
Along with Wheatley's two conference titles in 2009, the Husker pole vaulters excelled under Grimes. They won three of the four conference titles. Willer swept the women's crowns, while Burney won his first Big 12 title at the outdoor meet.
As a sophomore in 2009, Willer thrived under Grimes by breaking seven pole vault records, including NU's indoor and outdoor records. A native of Elkhorn, Neb., Willer also broke the American Junior record (14'4.5"/4.38m) and won the Pan-Am Junior Championships with a meet-record vault of 14'1.25"/4.29m.
In 2008, Grimes produced five NCAA qualifiers for the outdoor championships, while Wheatley produced the program's fourth straight heptathlon championship at the Big 12 Outdoor Championships in Boulder, Colo.
Grimes sent eight athletes to the 2007 NCAA Outdoor Championships, including Brysun Stately, the nation's top-ranked competitor in the women's pole vault, and Selig, who earned her fifth All-America finish at the meet.
Stately became only the third Husker women's All-American in the pole vault with a seventh-place finish at the NCAA Indoor Championships. Later in the year she shattered the then-outdoor school record with a mark of 14'3.25"/4.34m during the Kansas Relays.
Selig became the first athlete in Big 12 history with four conference crowns in the combined events. Teammate Jenny Green, who joined Stately competing for NCAA honors in the women's pole vault, earned the same distinction with her fourth Big 12 victory in the vault.
While the Husker women's pole vault and combined events groups flourished, his men's athletes also showed tremendous success at both the national and conference levels. With the addition of men's decathletes Lee Martin and Skyler Reising, NU led all NCAA squads with four total men's and women's entries in the combined events at the national meet in 2007.
Overall, five Husker combined event athletes and three NU vaulters advanced to either the NCAA indoor or outdoor meets in Grimes' second year.
Grimes experienced an incredibly successful first season at Nebraska in 2006 after joining the Huskers in the fall of 2005. His athletes combined to earn five All-America honors in his first year while helping the men's and women's squads place among the top 20 at both NCAA Indoor and Outdoor Championships.
Grimes brought a wealth of recruiting and coaching experience on the NCAA Division I level with him to Nebraska. He previously served seven seasons as a Washington State assistant and was in charge of the men's and women's vertical and horizontal jumps. While with WSU, Grimes tutored pole vaulters Tamara Diles and Tyson Byers to NCAA All-America careers. Matt Mason set an indoor school record of 26-6 1/4 on his way to a sixth-place finish at the NCAA indoor meet in 2004, and Demetrius Murray claimed a silver medal in the triple jump at the 2000 NCAA outdoor meet.
Prior to his post with WSU, Grimes served as interim head women's track coach at Michigan State in 1996, before being named the Spartans' interim Director of Women's Track and Field and Cross Country. He remained in his interim post with MSU until 1998, when he was hired by Washington State. In his first season with the Spartans, Grimes coached an NCAA champion and three All-Americans.
Born in Austin, TX, Grimes moved with his family to Missouri and graduated from Jefferson City High School. He was a three-time NCAA Division II All-America pole vaulter at Abilene Christian University, Grimes was a key contributor on four Division II national championship teams. After exhausting his eligibility, he served as an assistant coach for the Wildcats in 1989. Grimes later coached in a graduate assistant role at Missouri from 1990 to 1991. Between his time at Missouri and Michigan State, he spent five years (1992-96) as an assistant in charge of jumps and combined events at Louisiana-Monroe.
Grimes has been an instructor for both USATF and the US Track & Field and Cross Country Coaches Association coaching education programs.
Grimes received his master's degree in education with concentrations in sport psychology/biomechanics from Missouri in 1992 and his bachelor's in education from Abilene Christian in 1989, concentrating on psychology/physical education.
He has two sons, KJ and Jack and a daughter, Scout.
Read more