UK Athletics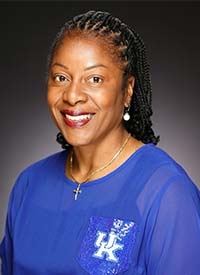 Debbie Ferguson McKenzie joined the Kentucky track and field staff an assistant coach in Sept. 2018.
"I want to be one of the first to welcome Coach Debbie Ferguson Mckenzie to The University of Kentucky," UK Head Coach Lonnie Greene said. "She brings a wealth of knowledge and experience in this noble profession of ours.  She will bridge the gap between Coach Tim Hall and myself. I am excited for her to get started on our staff."
Ferguson McKenzie joined the UK staff after spending the past four seasons at the University of Houston where she helped build that program into a nationally relevant contender.
"I'm thankful to Coach Lonnie Green and the UK administration for giving me opportunity to work with the Wildcats." Ferguson McKenzie said. "Being able to work within the SEC is an honor and a privilege. I want to also thank Houston and every one I worked with there. Now I'm so honored and excited to be with UK.
"I've always heard great things about Coach Greene, particularly his loyalty and pedigree. I know I'm joining one awesome staff. The group of coaches he's assembled, as well as support staff, are very exciting, positive, spiritual and grounded. I'm looking forward to working to take Kentucky to great heights."
In 2017, Ferguson McKenzie's athletes had great success at the Conference Championship level as she helped lead senior Tori Williams to the indoor title in 200-meter title, while Sierra Smith claimed silver medals in each of the 60m and 200m. During the outdoor slate, Ferguson-McKenzie's saw freshman Brianne Bethel take home a pair of silver medals in each of the 100m and 200m.
Ferguson McKenzie had an immediate impact when she joined the Houston staff before the 2014-15 season. She led sophomore Bria Carter to an American Athletic Conference Individual Championship in the 60m during the indoor season.
Ferguson McKenzie's women's sprinters and hurdlers would go on to qualify three student-athletes to the NCAA West Regional including Carter along with senior Sade-Mariah Greenidge and sophomore Tori Williams. Greenidge would go on to qualify for the NCAA Championships in the 100m hurdles along with the women's 4x100m relay team.
As an athlete, Ferguson McKenzie won 52 medals in international competition including her Olympic and world championship medals, and was a 10-time Bahamas national champion in the 100- and 200-meter sprints..
Ferguson-McKenzie was a specialist at the 100 and 200m sprints, as she represented the Bahamas in five Olympic Games – Atlanta 1996, Sydney 2000, Athens 2004, Beijing 2008 and London 2012 – and is a three-time Olympic medalist — owning a full suite of medals — and four-time medalist at world championships.
In her time away from the track, Ferguson McKenzie has built a charitable reputation while spending time as a motivational speaker, mentor and teen pregnancy counselor since 1994 and working with the Willamae Pratt Center for Girls, the Simpson Penn Center for Boys and the Bahamas Humane Society. She has also served as a member of the IAAF Athlete's Commission and was nominated as a Goodwill Ambassador of the Food and Agriculture Organization of the United Nations.
Read more