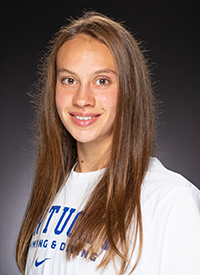 Caroline

Benda
position

Freestyle/IM

class

Freshman

Hometown

Parkton, Md.

Major

Agricultural and Medical Biotechnology

High school

Hereford High School
Top Times (SCY):
500 Freestyle: 4:53.64 (John deBarbadillo Invitational, 1/25/21)
1000 Freestyle: 10:02.83 (Maryland Senior Championships, 2/20/20)
1650 Freestyle: 16:47.12 (Ohio State Invitational, 11/20/21)

Top Times (LCM):
400 Freestyle: 4:24.86 (ISCA International Senior Meet, 3/25/21)
800 Freestyle: 8:58.29 (ISCA International Senior Meet, 3/27/21)
1500 Freestyle: 17:01.29 (ISCA International Senior Meet, 3/23/21)
2021-22 (Freshman): Won the 1650 free (16:39.65) at the Ohio State Winter Invite where she also placed third in the 400 IM (4:23.96) and fourth in the 500 free (4:58.08) … Placed 16th in the mile in a lifetime best of 16:47.12 at the Ohio State Invitational … Had eighth top-8 finishes throughout the dual meet season, highlighted by a runner-up finish in the 1000 free (10:20.78) versus Ohio … Also finished third in the 1000 free (10:17.85) versus Cincinnati … Raced to fourth in the 1000 free (10:05.75) against Tennessee … Took sixth in the 1000 free (10:25.34) and eighth in the 500 free (5:09.70) in her Wildcat debut against Indiana and Indiana State.

Prior to UK: Swam for North Baltimore Aquatic Club, the same program as UK teammates Lauren Poole and Megan Drumm … U.S. Open qualifier … Nine-time Maryland Senior Championship gold medalist … Earned a pair of runner-up finishes at the 2021 ISCA International Senior Cup … Had two top-20 finishes at Richmond Future Championships in 2018 … USA Swimming Scholastic All-American.

Personal: Daughter of Marci and Brian Benda … Both parents swam at South Carolina … Has a younger sister, Meghan … Also ran cross country and track in high school, leading her team to five state championship titles … Was the Maryland state runner-up in the 3200-meter run in 2021.
Read more