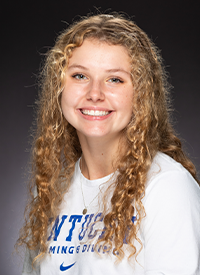 Abby

Devereaux
position

Diver

class

Freshman

Hometown

Colleyville, Texas

Major

Journalism

High school

Colleyville Heritage High School
Top Scores:
1-meter: 287.40 (Kentucky vs. Cincinnati, 1/28/22)
3-meter: 306.68 (Kentucky vs. Ohio, 10/15/21)
Platform: 216.75 (Zone C Championships, 3/9/22)

2021-22 (Freshman): Finished 17th on platform (418.35) at the Zone C Diving Championships, also taking 19th on 1-meter (262.10) … Her score of 216.75 in prelims of platform at Zones set a new personal record … Had a trio of top-20 finishes at the midseason Ohio State Invitational, also competing in six dual meets in her rookie campaign … Achieved a best score of 287.40 on 1-meter to finish second against Cincinnati in addition to placing third on 3-meter (269.63) … Notched a lifetime best of 306.68 on 3-meter to place third versus Ohio, also taking third on 1-meter (262.88) … Posted a mark of 272.85 on 1-meter to finish third against Tennessee … Dove to third on 3-meter (264.75) at Louisville.

Prior to UK: Four-time Texas 5A State Championship finalist on the 1-meter springboard, winning back-to-back state titles in 2020 and 2021 … Won the 1-meter at the Texas 5A District and Region Championships all four years … Named Texas' Diver of the Year in 2021 … Owns school record on 1-meter … Two-time team captain and four-time team MVP … Also dove for GC Diving … Placed third on the 3-meter and fourth on the 1-meter at the 2021 USA Diving Zone B Championships … 3-meter runner-up at the 2021 USA Diving Junior Region 4 Championships … Competed on the 1-meter at the USA Diving Junior National Championships in 2019.

Personal: Daughter of Rachel and Wally Devereaux … Mother played tennis at TCU … Father played tennis at UT Arlington … Has one sister, Emmy.
Read more