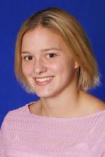 Jessica

Siegele
class

Senior

High school

North Allegheny
Major – Business Management
2001-02 – Currently holds the third-fastest time in the 100y backstroke (56.51) and the ninth-fastest time in the 200y backstroke (2:04.33) in UK history … Scored points for UK at the SEC Championships, placing ninth in the 100y backstroke … Also competed in the 50y freestyle, placing 42nd … Swam at the Nike Cup, taking third in the 100y backstroke and 17th in the 200y backstroke while also competing in the 50y freestyle and the 100y buttefly … Saw first collegiate action at the SEC East Extravaganza, placing 11th in the 100y backstroke and 29th in the 100y butterfly … Also swam in the LSU/Tennessee, Louisville, South Carolina/Arkansas and Indiana/Cincinnati dual meets.
Pre-College – Three-time North Allegheny High School MVP… Freshman Rookie of the Year… Lists winning the 2000 state championship in the 100 backstroke as her most memorable moment… Sister Jaime was an All-America swimmer at Kentucky and sister Jen currently swims at Virginia Tech.
Best Scores – 50 freestyle – 24.77; 100 backstroke – 56.51; 200 backstroke – 2:04.33; 100 butterfly – 57.64.
Read more