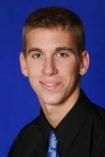 David

Roberts
class

Senior

High school

Bloomington North
Major -Photography
2001-02 – Competed at the Nike Cup in the 500y freestyle, 100y backstroke and 200y backstroke … Saw first collegiate action in the LSU/Tennessee dual meets, placing seventh in the 200y backstroke … Also swam in the Louisville and South Carolina dual meets … Clocked season-best times in the 100y backstroke and 200y backstroke during the Last Chance Meet at Georgia.
Pre-College – High school Most Valuable Swimmer and team captain… Lists 12th-place finish in 100 backstroke at Indiana High School State Championships as his most memorable moment in sports… Chose UK because of the swimming program.
Best Times – 500 freestyle – 4:52.56; 100 backstroke – 53.03; 200 backstroke – 1:57.20.
Read more