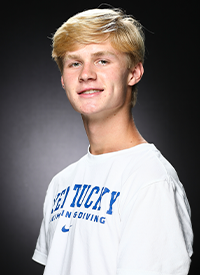 Cooper

Tyler
position

Freestyle/backstroke

class

Freshman

Hometown

Louisville, Ky.

Major

Biology

High school

Saint Xavier High School
Top Times (SCY):
200 Freestyle: 1:40.42 (Kentucky Short Course Championships, 3/19/21)
500 Freestyle: 4:36.68 (2022 SEC Championships, 2/16/22)
1000 Freestyle: 9:42.01 (2022 SEC Championships, 2/19/22)
1650 Freestyle: 16:11.80 (2022 SEC Championships, 2/19/22)

Top Times (LCM):
100 Freestyle: 53.60 (Greensboro Speedo Sectionals, 7/18/21)
200 Freestyle: 1:54.84 (Greensboro Speedo Sectionals, 7/16/21)
200 Backstroke: 2:09.57 (Greensboro Speedo Sectionals, 7/18/21)
2021-22 (Freshman): Finished 34th in the 1650 free (16:11.80), 48th in the 500 free (4:36.68) and 59th in the 200 free (1:41.32) at the SEC Championships … Placed 31st in the mile (16:16.78) at the midseason Ohio State Invitational … Saw action in four dual meets … Took fourth in the 200 free (1:43.45) and fifth in the 500 free (4:48.57) against Miami Ohio … Raced to fifth in the 1000 free (9:47.38) versus Cincinnati … Placed eighth in the 200 free (1:41.68) at Louisville … Won the Team Spirit Award at the program's annual award banquet.

Prior to UK: Eight-time Kentucky State Championship finalist, earning bronze in the 100 freestyle as a junior … Member of the winning 400 freestyle relay in 2021, guiding his team to their 33rd-straight state title … Named team captain … Also swam for Lakeside Swim Team where he was a Junior National qualifier … Swam for the same club and attended the same high school as UK teammate Jackson Mussler … Multi-time Sectional Championship finalist … Earned bronze in the 200-meter freestyle at the 2019 Kentucky 13&O State Championships.

Personal: Son of Carrie and Jerry Tyler … Has one sister, Carlie.
Read more