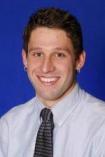 Clay

Gasparovich
class

Senior

High school

Canton
Major – Kinesiology
2001-02 – Time of 20.81 in the 50y freestyle during the Last Chance Meet at Georgia tied for the 10th fastest time in UK history … Competed at the SEC Championships, finishing 24th in the 50y freestyle (20.82), 32nd in the 100y butterfly (51.47) and 35th in the 100y freestyle (46.34) … Was part of the 200y-freestyle relay team that recorded the 30th-best time in collegiate competition for the year (1:20.82 – SEC Championships) … Also competed at the Nike Cup in the 50y freestyle, 100y freestyle and 100y butterfly … Also swam in the Louisville, Soouth Carolina and Indiana dual meets.
Pre-College – High School All-American… Local Swimmer of the Year runner-up… State record holder… "Y" District State Champion… Chose UK to further his career in swimming and because of the design program.
Best Times – 50 freestyle – 20.81; 100 freestyle – 46.34; 100 butterfly – 51.47.
Read more