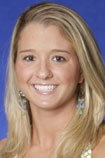 Christina

Morgan
class

Senior

High school

Winter Springs
2007-08: Placed 24th in the 100-freestyle at the Nike Cup which marked her second straight top-26 finish at the Nike Cup … Finished seventh at UK's home meet against Florida in the 50-freestyle … Recorded career best time in the 100-free.
2006-07: Notched a 26th place showing in the 50-freestyle at the Nike Cup in November … Followed that performance with 39th in the 100-free and 49th in the 100-butterfly … Recorded a second place finish in the 50-free in a UK win over SEC-foe Vanderbilt … In the team's final meet, a win over Cincinnati, she took third in the 50-free.
Pre-College: Tabbed the Most Valuable Swimmer in each of her four years at Winter Springs High School … Earned All-American honors in all of her four seasons … All-Scholastic American States in each of her four years … Holds seven high school records … Chose Kentucky for the environment and people who surround the area … Her first impressions of her new team is they are all very supportive, friendly and dedicated.
Best Collegiate Times: 100-butterfly: 1:01.12; 50-freestyle: 24.37; 100-freestyle: 53.21
Read more