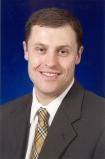 Chris McCabe begins his first season as an assistant coach at UK. McCabe will work primarily with the distance group and serve as the recruiting coordinator.
McCabe comes to the Wildcats after having spent the last three years as a senior coach with the Lakeside Swim Team in Louisville, Ky. During his three years with the SeaHawks, McCabe coached numerous top-16 and Junior National qualifiers, and helped coach the boys to their first Junior National Team Championship. He has also coached with U.S. Olympic Coach Mark Schubert at the University of Southern California swim camp in 1998 and brings 10 years of coaching experience from the City of Bradford (England) Swim Club.
McCabe was previously associated with the UK swim team from 1992-98, lettering from ?93-?95 and again in ?97. While at UK, he was a member of the SEC Academic Honor Roll, vice president of the American Marketing Association and coordinated the community outreach program for the swim team.
A native of Bradford, England, McCabe returned to England in 1996 to train and compete in the British Olympic Trials. In 1997, he returned to UK for his senior year and then was a volunteer assistant coach with the team before graduating with a degree in marketing in 1998.
McCabe is engaged to Jenny Mueller and an August 2002 wedding is planned.
Read more