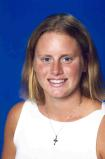 Amanda

Skinner
class

Senior

High school

Lake Forest
Major – Elementary Education
2000-01 – Collected a sixth-place finish in 100 breaststroke at Cincinnati… Placed 13th in both the 100 and 200 breaststrokes at Texas A&M Invitational… Took seventh in the both 200 breaststroke and 200 backstroke at Tennessee… Competed in both the 100 and 200 breaststrokes at the SEC East Extravaganza… Began UK career with a sixth-place finish in 50 freestyle against Louisville.
Pre-College – Four-year captain and letter winner for high school team… Took fourth place in Senior Championships as a part of the medley relay… Member of the 1997 State relay… Alternate for State relay 1996, 1998, and 1999… Also played water polo… Lists her most memorable moment in sports as making her senior champs cut at a last chance meet… Chose UK because of distance from home, diversity at the school, and the opportunity to swim.
Best Times – 100 breaststroke – 1:13.00; 200 breaststroke – 2:44.36.
Read more