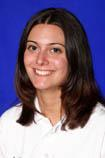 Full Name: Lindsey Elizabeth Meagher
Major: Accounting and Management
Academic/Athletic Accomplishments: My academic accomplishments include being in the Frank G. Ham Society of Character, being on the SEC Academic Honor Roll in 2002-2003, the CRCA All- Academic Team 2000-2003, and being on the dean's list in Fall 02 and Spring 03. Athletically, I competed in the NCAA Championships the past 3 years, helping the team place second in 2001 and 2002. Individually I've competed and medaled on the national and international level, including having been on the US National Team and placing 8th in smallbone at the Olympic Trials in 2000.
Goals at UK (academically and athletically): I hope to remain on the dean's list until I graduate in May with degrees in accounting and management. Also, I want to remain on the CRCA All-academic and help the team to win at NCAA's.
Favorite sport other than rifle: I love to play soccer and softball
Favorite Movie: Shrek
Reasons for choosing UK: I came here because I liked everyone on the team and they all got along well. It is a good school in a great area and it allowed me to get away from home. We have a great coach and excel on the range. UK just offered the whole package.
Things you like best about UK: I think UK offers an excellent education. Lexington is a great city. The people here are friendly and outgoing.
Things you like about the UK Rifle Program: I love everything about the team. We are like a family. We have our disagreements but in the end we're there for each other and care about each other. We all work hard and push each other to accomplish our goals. Not to mention we have the best coach in the country.
Biggest Superstition about shooting: The last shot has to be a 10. In practice, no matter how good or bad things are going, I have to have a 10 on the last shot. You can't end on a bad note.
Hobbies: I'll pretty much do anything. I love playing any sport, listening to music, hanging out with friends and family.
Parents' Names: Paul and Sandra Meagher
Favorite Foods: I could live on chicken tenders.
Future Career Plans: After I graduate in May, I plan to go to grad school to earn an MBA and then get my CPA. I also plan to continue shooting and will try out for the Olympics in 2004 and hopefully 2008.
Craziest question about shooting: So, does rifle require any athletic ability at all?
Read more