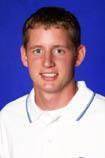 Full Name: Bradley Wheeldon
Major: Physical Therapy
Academic/Athletic Accomplishments: Three-time Academic All-American, SEC Academic Honor Roll, Verizon District 3 All District Team, six-time NRA All- American, Great American Rifle Conference Shooter of the Year in 2001 and 2003, three-time All-GARC, placed in NCAA individual championships in each year as a Wildcat. In 2003, took second-place honors in smallbore and third place in air rifle. Named to the Dean's List and the Frank G. Ham Society of Character
Goals at UK (academically and athletically): To win a team NCAA Championship and individual NCAA titles, graduate with a master's in physical therapy
Favorite Sport other than rifle: Baseball
Favorite Movie: Tommy Boy
Reasons for choosing UK: It has always been a dream to bring an NCAA championship to UK.
Things you like best about UK: Being a student-athlete at UK gives you the best opportunity to excel in our sport; however, it also gives you a chance to experience great things and have a great time doing it.
Things you like about the UK Rifle Program: The team works very hard together and we really have a good time when we are together. Being with the team really gives you a chance to take your mind off school for a while.
Biggest superstition about shooting: Girls actually can beat guys
Hobbies: Sports and anything outdoors
Craziest question about shooting: How hard can that be?
Read more