UK Athletics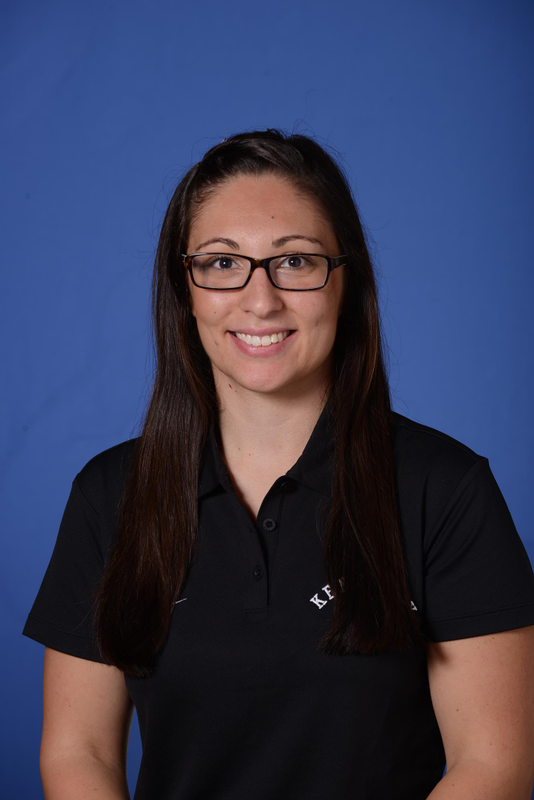 Rena Curvey has served as assistant coach with UK Rifle since 2014 and was on staff for UK's National Championship runs in 2018 and 2020.
Kentucky's third national championship in 2021 would not have been accomplished without Curvey, who was instrumental in the team's overall success. Specifically, Curvey helped Tucker win the individual national championship in air rifle, smallbore and overall in 2021 while as a team the Wildcats posted the highest team score in championship history since the event went to 120 shots per competitor from 160 shots in 2005. Will Shaner also was the runner-up in air rifle individually.
Curvey had a major impact on the 2020 team that went on a perfect run through the regular season and was the top qualifier for the 2020 NCAA Rifle Championships. The 2020 squad had five All-Americans and won the Great America Rifle Conference regular-season and tournament championships. During the season, she helped Tucker and Shaner earn two of the four qualifying spots for the 2021 Tokyo Olympics.
Curvey joined UK head coach Harry Mullins' staff after a decorated career at Ole Miss.
"We're very excited," Mullins said upon hiring Goodwin in 2014. "Rena has tremendous work ethic. She has a solid foundation of beliefs for the sport. She also has a strong will to win.
"Her enthusiasm is great for the team. The four years I saw her compete in college were impressive. If she brings that will to win to the team, we will be in a good place."
Goodwin was a member of the Ole Miss rifle team for four years, serving as team captain for the last two. She obtained a bachelor's degree in Exercise Science.
"I'm very excited to start working here," Goodwin said. "This is a very good program that I've always admired so I'm very happy to now be a part of it. I look forward to helping the team accomplish what we want to get done."
She excelled on and off the range in Oxford, Mississippi. Goodwin was part of a generation that redefined the definition of success for the Ole Miss rifle program.
She improved her averages every year she competed at the collegiate level. One of the top members of her college team as an air rifle and smallbore competitor, Goodwin finished her career on a high note with 583.2 average in air rifle and 558.4 in smallbore.
Her 2013-14 air rifle average was four points better than her junior season, and more than 16 points better than her freshman season.
She earned Collegiate Rifle Coaches' Association Academic All-American honors all four years of college between 2010-11 and 2013-14.
Goodwin was also a Conference Honor Roll selection three times.
Read more