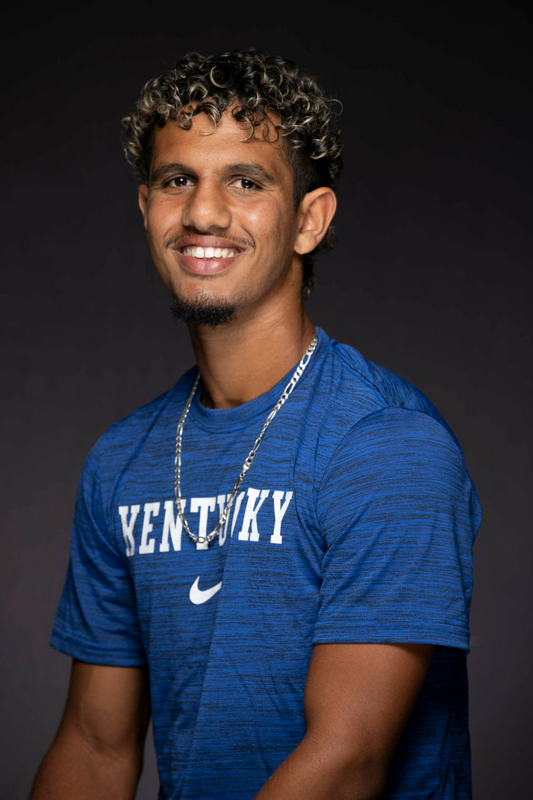 Taha

Baadi
height

6-0

class

Fifth Year

Previous School

Wake Forest

Hometown

Montreal, Canada
2022-23 (Senior)
All-SEC Second Team
Finished the spring with a 19-8 singles record, including 16-8 at fourth singles
Was 3-3 against nationally-ranked singles opponents
Went 3-1 in singles during NCAA Tournament run
Went undefeated in singles during non-conference play
Posted 11-12 spring doubles record, playing 20 matches alongside Ayeni on the top court
Led the team with eight clinches on the season, including two in the NCAA Tournament
Named SEC Athlete of the Week on Feb. 8
Won the Elite Performance Award at CATSPY's for his victory sealing win at No. 1 Virginia on Feb. 5
Reached No. 102 in the ITA Singles Rankings
Peaked at No. 23 in the ITA Doubles Rankings alongside Alafia Ayeni
Transferred to UK from Wake Forest
Fall singles record of 2-2
Fall doubles record of 1-1
From Wake Forest
Awards
• 2021 Third Team All-ACC Singles
Career
• 56-31 record in singles
• 36-24 record in doubles
2021-22 (Junior)
• Singles: 15-7
• Doubles: 5-0
Results
• Recorded a 15-7 singles record and went 1-0 in ACC action
• Ended the regular season on a six-match win streak.
• Went undefeated in the No. 2 (3-0) and No. 3 (3-0) spots.
• Posted a 5-0 record in doubles and went 1-0 in conference play
• Ranked as high as No. 100 in singles
2020-21 (Sophomore)
• Singles: 13-9
• Doubles: 16-8
Results
• Recorded a 13-9 singles record and went 5-3 in ACC action
• Ended the regular season on a five-match win streak, including four wins over ranked opponents
• Picked up notable singles ranked wins over No. 43, No. 59, No. 66 and No. 75
• Tied for most wins at the No. 2 spot with 6 singles wins
• Posted a 12-5 record in doubles and went 4-2 in conference play
• Ranked as high as No. 97 in singles and No. 56 in doubles with Melios Efstathiou
• Entered the ITA rankings at 107 in singles (Feb. 6 to Mar. 21)
• Went 2-0 in singles at the ACC Championships
2019-20 (Freshman)
• Singles: 7-5
• Doubles: 3-3
Results
• Joined the program in January
• Finished the season with a 7-5 record spending most of his time on courts two and three
• He played his first collegiate match on the top court, dropping a three-set battle
• Clinched the match against Kentucky to send the Demon Deacons to the ITA National Indoor Championships with a 6-3, 7-6(4) decision on court two
• Picked up two ranked victories, defeating No. 81 Ryan Goetz of Virginia 6-2, 7-6 (4) and No. 102 Adrian Boitan of Baylor, 6-4, 6-0
• Partnered mostly with Melios Efstathiou in doubles for a 2-2 mark
Prior to Wake Forest
• Trained at Tennis Canada, the national tennis training center in Montreal
• Recorded career-high ATP ranking of 965
• Reached the semifinals at M15 Monastir 47 and three quarterfinals of the M15 Cancun in 2019
• Recorded career-high junior ranking of No. 31
• Played in three Junior Grand Slam tournaments (Roland Garros, Wimbledon and US Open)
• Reached the quarterfinal in Roland Garros with a 6-7(5), 7-6(2), 6-1 first round win, 6-7(6), 6-2, 2-4 (ret.) second round victory and a 7-6(3), 6-2 decision in the third round
• Qualified for Junior Wimbledon and defeated Youcef Rihane 6-2, 6-2 in the first round and picked up a 6-4, 7-6(3) win in the second round over France's Baptiste Anselmo
• Advanced to the third round before falling to Martin Damm
• Won G2 Montreal, reached semifinal of J1 Lambare and J1 Copa Mundial Campeche
• Competed in the 2019 Winston-Salem Open against Wake's Borna Gojo.
Personal
• Son of Driss Baadi and Aziza Boujnouni
• Has one sister, Hiba
• Born July 19, 2001 in Rabat Morocco
Read more