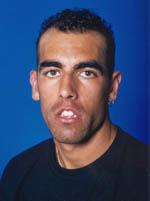 Rahim

Esmail
height

5-11

Weight

160

class

Senior

High school

Fraser Valley Distance Education
2001-02 (sophomore): A strong case could be made for Esmail as team MVP … Started the spring as No. 7 and moved into the lineup following the injury to Johan Grunditz … He responded with a 17-match duel-match winning streak, nearly all of them at the No. 6 spot … Included in this remarkable run were wins over UCLA (twice), Tennessee (twice), Ole Miss, Florida and Baylor … He did not lose from Jan. 23 until Mar. 29 … Saw action in all four fall tournaments…Impressive wins over Indiana's Jon Magnes (6-2, 6-3), Vanderbilt's Lewis Smith (6-3, 6-4) and Tulane's Matthius Westerberg (6-2, 6-4) in the Region III Championships…Grabbed the Flight A Singles title at the Louisville Invitational with a, 7-6, 6-3, victory over teammate Gustav Pousette…Had two straight-set victories over Miami's Maxime LePivert and Georgia's Ion Vlad in the Bulldog Scramble… Clinched match with #4 Tennessee by defeating Wade Irr 6-7, 6-3, 7-5 … One week later, he clinched the upset of Ole Miss with a 6-2, 6-4 victory over Claes Lindholm … He also clinched the win over #8 Florida by defeating Ross Greenstein 6-0, 6-2 … Played most of the year at No. 3 doubles with Jesse Witten and ended with a 8-5 record … Outstanding overall singles record of 35-13 … Had a great NCAA Tournament … In regionals, he defeated Murray State's Mike Schmidbauer and then had a dramatic 4-6, 6-3, 6-4 win over Vanderbilt's Lewis Smith to give UK at berth in the Sweet 16 … In the round of 16, he led Duke's Peter Shults before the match was stopped … His quarterfinals match against Tennessee's Wade Orr was also stopped with Esmail leading 4-6, 6-3, 5-3 … He and Witten won at No. 3 doubles against the Volunteers … Named UK's clinching point award winner at the team banquet.
2000-01 (freshman): A January addition who started slow for the Cats but played well at the end of the year…Won his first match in the SEC Indoor Championship before falling to the No. 31 Brandon Wagner of Georgia…Posted a 4-7 SEC regular season slate with wins at No. 6 versus Arkansas, LSU, Alabama and Auburn…Lost two heartbreakers by 7-6 in the third set of 4-3 losses to Florida and Ole Miss…Went 8-8 in singles action against regional opponents…Tallied dominating wins over Alabama's Michael Pallares and Indiana's Bernard Tsepelman …Excellent post season…Undefeated at No. 6 in the SEC Tournament with wins over Ole Miss's Patrick Chucri and Brad Hambrick of Vanderbilt…Defeated Chris Shaya of Michigan at the NCAA Regionals before falling to Evan Fowler of South Alabama.
Junior Career: A three-time National Singles finalist…Has been named to the Canadian National team for the past seven years…Was named the National Doubles Champion in 1998…Competed in the French Open…Lost in two finals of the Pacific Northwest Men's Open Championship series…Is a two-time World Youth Cup team member…Named a two-time winner of the Fred Fatkin Award which is given to the top athlete in the province.
Personal: Full name is Rahim William Esmail…Born April 7, 1981…Parents are Brenda and Karim Esmail…Enjoys watching hockey and basketball in his free time.
Emery on Esmail:
"Rahim is a hard worker who wants to achieve on a high level. He has really picked up the level of his game as seen by his win over Pousette in the finals at Louisville this fall. He is our most improved player and should be a force in our line up somewhere this year."
Esmail's UK Stats

Year
Singles
Doubles
Overall
SEC
Overall
SEC
2001-02
37-13
6-2
14-12
4-2
2000-01
14-13
6-7
5-7
1-3
TOTAL
51-26
12-9
19-19
5-5
Read more