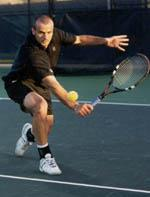 Karim

Benmansour
height

6-2

Weight

200

class

Junior

High school

Palmer Tennis Academy (Fla.)
2001-02 (sophomore): Had an impressive spring that saw him ranked in the top 60 in nearly every ranking ? Reached quarterfinals of the Milwaukee Tennis Classic and followed that with an upset of #67 Mark Dietrich of Tennessee in the first round of the SEC Indoor Championships ? Started the year No. 1 but gathered steam in March with a move to No. 2 ? Defeated 6th-ranked Brandon Wagner of Georgia in his first match there ? Scored big wins over Angelo Niculescu of South Carolina to key UK?s 4-3 road win ? Upset #38 Zoltan Papp of Baylor ? Finished regular season by winning five of six matches including against Chad Harris (Vanderbilt), Casey Smith (Notre Dame), Chris Gostek (Alabama) and Peter Richman (LSU) ? Avenged earlier defeat by Rene-Charles Combette of Mississippi State in the first round of the SEC Outdoor Championships ? Played No. 1 doubles with Evan Austin the entire year ? Won the Milwaukee Tennis Classic upsetting #15 Travis Parrott and Peter Malacek of Portland in the semi-final and #40 Jimmy Borendame and Brandon Currie of Butler in the final ? Best wins were over Mark Dietrich/Peter Handoyo (Tennessee), #31 Rene-Charles Combette/Romain Ambert (Mississippi State), #29 Marcus Westman/Angelo Niculescu (South Carolina) and #28 Michael Yani/Phillip King (Duke) ?At the NCAA Tournament, he went 2-2 in singles and 2-2 in doubles ? At regionals he won in singles against Freddy Sundsten of Murray State but lost to Vanderbilt?s Chad Harris ? In the Sweet 16, he had two of his best wins as he defeated #18 Mario Toledo of Tennessee 6-1, 7-6 in UK?s quarterfinal loss ? He and Austin clinched the doubles point in UK?s Round of 16 win over Duke, defeating #28 Phil King and Michael Yani 8-6 ? Named to the All-SEC Second Team in singles.
2000-01 (freshman): Got off to a slow start in January?Struggled during indoor play but began to pick up play with in the beginning of the outdoor season?Key player in team wins for a stretch at the No. 2 spot…Saw most doubles action with partner Edo Bawono and earned a 6-4 record?Highlight of the year came at Georgia when he defeated the nations No. 6 player, Bo Hodge, in three sets, 6-4, 1-6, 7-5, at the No. 1 spot?Had big wins against Jerome LeBelicard of Mississippi State, Stephen Mitchell of Alabama, David Nelson of South Carolina and Chad Harris of Vanderbilt?Won first match at SEC Tournament before falling to No. 38 James Shortall of Ole Miss?At NCAA Regional, nearly pulled the upset when he led South Alabama's undefeated Julian Reynal at the No. 2 spot by 4-1 in the third set?Big key to UK in doubles when he clinched the ETSU match with Grunditz at No. 1, Alabama doubles point with Pousette at No. 2 and Auburn doubles with Bawono against Kovas/Junaid.
Junior Career: Posted junior rankings of No. 30 in singles and No. 20 in doubles…Highlights include wins over the second- and fifth-ranked world juniors players…Played in the Sunshine Cup world team championships for Morocco in 1995,1996 and 1997…Was the No. 1 Moroccan player in four age groups and the No. 7 player for the men's rankings.
Personal: Born Dec. 25, 1979…Parents are Amal and Mohamed Benmansour…Lists favorite tennis player as Stefan Edburg…Lists favorite food as fish…Chose UK because "it's a school that fits my needs in every aspect."
Emery on Benmansour: "Karim has unlimited potential coming down to how big his heart is and his strong work ethic. We saw glimpses last year of what the future could be like for him and our program. His development is a key component for this program."
Benmansour's UK Stats

Year
Singles
Doubles
Overall
SEC
Overall
SEC
2001-02
19-5
5-5
17-16
3-7
2000-01
12-16
5-8
11-14
6-7
TOTAL
31-21
10-13
28-30
9-14
Read more